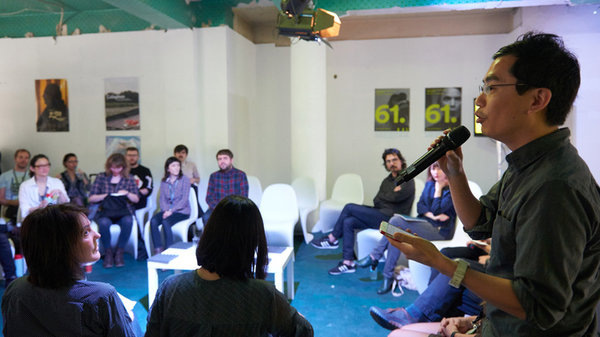 62nd International Short Film Festival Oberhausen
Open Call
7 Dec 2015
Open call for applications to the third Oberhausen Seminar
The International Short Film Festival Oberhausen, in conjunction with LUX and the Robert Flaherty Film Seminar, call for applications to the Oberhausen Seminar. The seminar will be held, for the third time, at the 62nd International Short Film Festival Oberhausen (5 to 10 May, 2016). This edition will be led by Erika Balsom, lecturer and writer based in London. The Seminar is open to participants who work with contemporary moving images, and the deadline for applications is 1 February, 2016.
The Oberhausen Seminar is an experimental course exploring contemporary artists' moving image practice in the context of a renowned international film festival. It brings together international participants from various fields – artists and filmmakers, curators and scholars – using the Oberhausen Festival as a laboratory to discuss ideas in the curation, production and criticism of contemporary moving image media. All Seminar activities will take place in English, and only 30 applications will be selected.
Erika Balsom specialises in the study of artists' moving image. As well as a frequent contributor to ARTFORUM, she is the author of Exhibiting Cinema in Contemporary Art (2013) and a monograph on the distribution and circulation of artists' film and video, forthcoming from Columbia University Press in 2016. She has published widely in journals, magazines, and exhibition catalogues. With Hila Peleg, she is the co-editor of the anthology "Documentary Across Disciplines" (Haus der Kulturen der Welt and MIT Press, 2016). She holds a PhD in Modern Culture and Media from Brown University and is currently lecturer in Film Studies and Liberal Arts at King's College London.
Deadline for applications: 1 February, 2016
Seminar fee: Euro 200