LUX and LUX Scotland present a mail art project by Jamie Crewe, which comprises drawing, script, a scent created by the artist and their collaborators Charlotte Percival, John Turrell, and Tom Turrell, and a new text by Travis Alabanza. This project marks the conclusion of Jamie Crewe's solo exhibition Ashley.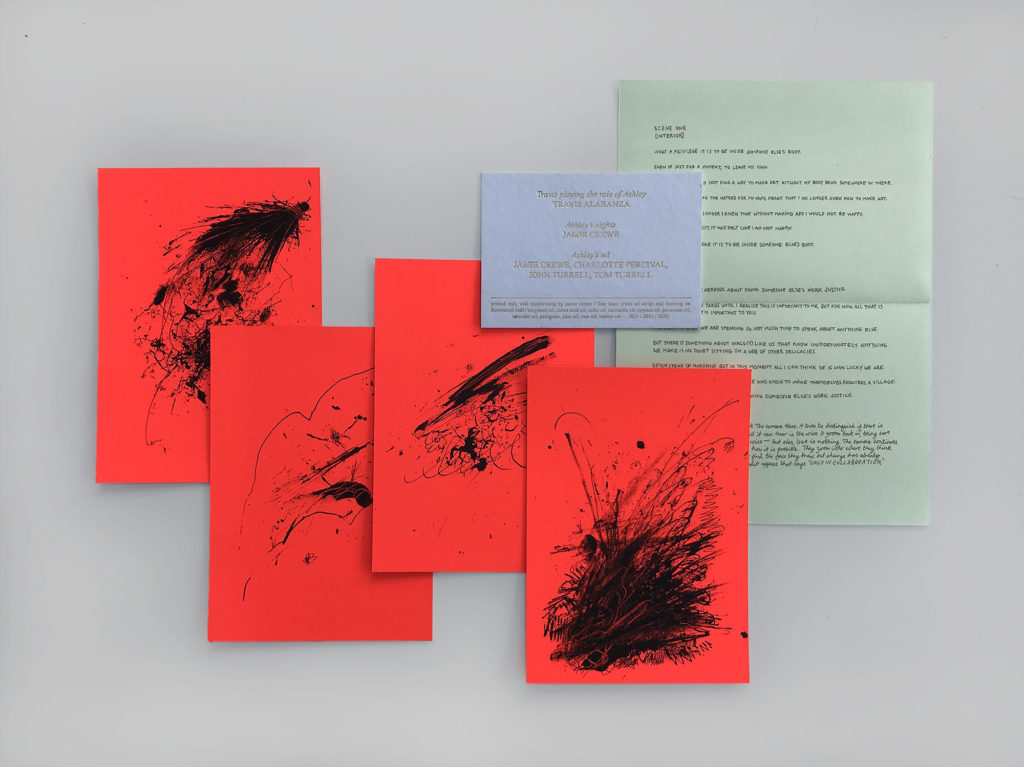 This package includes three works that act as addenda to Ashley (2020), a film by Jamie Crewe.
Travis playing the part of Ashley (2021) is a new text by Travis Alabanza, who also performs the role of Ashley's Voice in the film. The text reflects on Ashley, on the invitation to perform and the invitation to write, on the experience of recording in Glasgow with Jamie, and the intimacy between collaborators in doing so. It is riso-printed in old gold ink on dull pistachio paper.
Ashley's nights (2021) is a set of four laser prints of script and drawing by Jamie Crewe. Printed on a fluorescent red card, each represents one of the four night time sequences in Ashley, during which the titular character is menaced by strange and invasive forces. In these sequences, which escalate in intensity and length, the film's narration is cut out, leaving only the preparatory breaths and clipped plosives of Travis' excised performance. These cards contain the script of these excised segments, offering an alternative description of Ashley's arc, and providing piercing specificities not available to a viewing audience (or to the character of Ashley themself). Each is accompanied by a drawing, originally made in knife-drawn ink and oil pencil: something like visual scores, or illustrations of darkening days.
Ashley's oil (2020) is a scent co-composed by Jamie Crewe, Charlotte Percival, John Turrell, and Tom Turrell. This group shot Ashley together in July 2019: Jamie wrote, directed, and acted the title role; Charlotte tackled styling and make-up, production assistance, driving, and appeared as a figure on a rock; John recorded sound, handled lighting, and appeared as an intruder; Tom operated the camera, and appeared as a subtle presence in a window. While shooting, the four realised that they shared a passion for scent and perfume, which, despite years of friendship and working together, had never come up. Ashley's oil was conceived with this stimulus: it was to be a room scent for the physical exhibition of Ashley at LUX, planned for November 2020, which reflected the landscape of the film, as well as memories of filming it. Here the scent is re-conceived, and sprayed onto a foil-plated card: it brings the redolence of wet, woody things into the package, as well as citronella to repel midges. 
The package is produced in an unnumbered edition of 100, with matter printed by The Holodeck, Birmingham.
Available to order here for a suggested donation of £2 (UK) & £5 (International) including P&P. Contact us at [email protected] if you cannot afford to donate.
Ashley formed the basis of a solo exhibition at LUX in 2020, which has since migrated onto LUX's website, where it can be viewed uncaptioned, with captions facilitated by Collective Text, and with audio description by Dot Alma. On view until 13 May 2021 here 
---
---
Travis Alabanza is an award-winning theatre maker, writer, and performer. A previous member of the Royal Court Young Writers group and Barbican young poets, their recent show Burgerz, which explored the intersections of transness and harassment, toured internationally to Sao Paolo, Southbank Centre, Bristol Old Vic, Smock Alley Dublin, HAU Berlin and Edinburgh Festival Fringe where it won the Total Theatre award. Other work includes My White Best Friend (Royal Court online), Skype d8 (Bush Theatre online) and In Tandem (Paines Plough online).
Alabanza has performed their solo work in a range of venues, galleries, and mediums including clubs such as the Royal Vauxhall Tavern, Latitude Festival, the V&A museum and universities and colleges including Oxford, Harvard and Bristol. In 2016/17, Travis was the youngest recipient of the Tate Gallery Workshop residency. Travis has written for Metro, Vice, Gal-Dem, The Independent, Dazed, Gay Times and more.
In 2018/19, Alabanza was listed on the Dazed100 – 100 people defining culture, awarded a Gay Times Honours award for their work in the LGBT+ community, and listed in the Evening Standard 25 Influential people under 25. Recently in The Times Style Bernadine Evaristo picked Alabanza as a 'trailblazer of the future' to watch.
Jamie Crewe is a beautiful bronze figure with a polished cocotte's head. They grew up in the Peak District and are now settled in Glasgow. They have presented several solo exhibitions, including Solidarity & Love, Humber Street Gallery, Hull (2020); Love & Solidarity, Grand Union, Birmingham (2020); Pastoral Drama, Tramway, Glasgow (2018); Female Executioner, Gasworks, London (2017); and But what was most awful was a girl who was singing, Transmission, Glasgow (2016). Their work has also been presented as part of British Art Show 9 at various venues in Aberdeen, Wolverhampton, Manchester, and Plymouth, as part of I, I, I, I, I, I, I Kathy Acker at the Institute of Contemporary Arts, London; as part of the KW Production Series at Julia Stoschek Collection, Berlin; as part of the Glasgow International 2018 Director's Programme in the group show Cellular World at GoMA, Glasgow; and as part of the Artists' Moving Image Festival 2016 at Tramway, Glasgow. Jamie is currently working on a new commission in tandem with a research project at Edinburgh Law School, responding to the theme of identity deception and its history in Scots law.
The Holodeck is a printmaking and design studio founded in 2013 in Birmingham, specialising in Risograph, Letterpress, and traditional printmaking techniques. They produce their own range of printed ephemera, hand-marbled papers and stationery, and also work directly with artists, designers, and community and activist groups on their printed matters. They also run an open-call publishing project called Risobook.
Charlotte Percival is a stylist, designer, and artist living in Sheffield. Working as Made By Peanuts she designs and produces a range of clothes and homewares, including Some Pig, an incense stick and matching holder, and The Norwood Goblin, a pendant paired with a short story by writer and filmmaker John Turrell. She has styled musical acts like Self Esteem and poisonous relationship, and collaborated with the artist Jamie Crewe on numerous projects, including their 2019/2020 Margaret Tait Award commission Ashley.
John Turrell is a filmmaker creative based in Nottingham, UK. For over twenty years, he has collaborated with his brother, Tom, on a series of self-produced short film and video works. Currently, he is developing several projects, including two feature films and an anthology of creative fiction.
Tom Turrell is a creative currently based in London, UK. Together with his brother, John, he has self-shot and produced several hundred short films. Alongside his film work, he enjoys making music, writing short fiction and taking photographs.