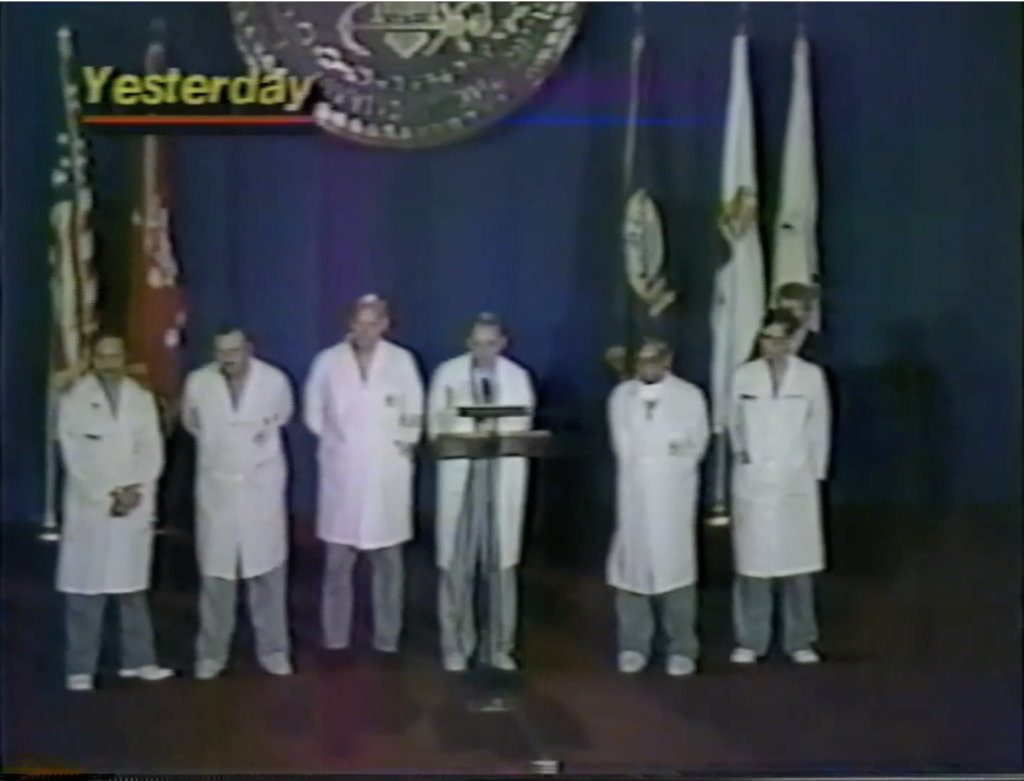 Online exhibition: Picturing a Pandemic Part 7: The Asshole Is A Tense Hole and Womb With A View
This screening has ended.
The final instalment of Picturing A Pandemic presents Bob Huff's The Asshole Is A Tense Hole (1985) and Sherry Millner's Womb With A View (1983).
The Asshole Is A Tense Hole repurposes television news coverage of the 1985 colon cancer treatment of President Reagan. This is combined with found images from porn, re-framed by Huff's deftly handled and humorous edits. Womb With A View is a diaristic, DIY, collaborative video (made with Millner's partner and artistic collaborator Ernie Larsen), told from the point of view of a woman, an artist and an artist-couple expecting a child together. This unpacks the social and critical construction of adulthood and being an artist through the tropes, trials and tribulations of pending parenthood, becoming a family, being gendered, being born and giving birth as acts of humour, care and radical potentiality.
These deliberately viral video interventions were produced at a time when the news media and the political right were instrumentalizing the shibboleths of political conservativism, namely patriarchy, heterosexism, conservative religious doctrines and supposed family values, to undermine and over-turn hard-won civil liberties, reproductive and healthcare rights and the already limited rights of LGBTQ+ people. These methods were later re-instrumentalized and travestied by Huff and fellow ACT UP media activists in ways that flipped dominant conservative political narratives on healthcare access, sexual health, education and social justice to provoke action on AIDS. This draws parallels with recent resurgent conservatisms and how these in turn orchestrate mass media manipulations on issues like climate change and coronavirus and renewed social justice campaigning and media activisms which seek to challenge these.
Accompanied Reading: An interview with Bob Huff on The Asshole Is A Tense Hole (1985), his solo and collaborative AIDS video activist works and treatment activism for ACT UP.
Supported by Video Data Bank, Chicago, US.
More information
The Asshole Is A Tense Hole
Bob Huff
Bob Huff (b. 1952, Chula Vista, California, USA) has lived in L.A., New York, and now lives in his native suburban San Diego. He has worked as a musical instrument maker, a computer programmer, a video maker, and a medical writer. Huff began making video in 1985 and was part of the first wave of US AIDS video activists following the formation of ACT UP in 1987, in which he participated as part of the Treatment & Data Committee and Treatment Action Group between 1987 and 1996. As an editor and performer Huff has collaborated with fellow AIDS video activists Robert Hilferty and Gregg Bordowitz. His AIDS activist works have been presented at survey exhibitions that include, AIDS: The Artist's Response, Group Material's AIDS Timeline and as part of further exhibitions and screenings at Artists' Space, ICA London, MoMA, PS 122, The Kitchen, White Columns, Whitney Museum and at San Francisco Gay & Lesbian Film Festival and Berlin Film Festival. His video work has featured in writing by Gregg Bordowitz, Paula Treichler and Roger Hallas. As a writer and editor, he specialized in covering HIV drug development issues for the AIDS advocacy organizations, AmfAR, GMHC, and TAG. Now retired, Huff remains active producing occasional art works and serving as a board member of the AIDS Treatment Activists Coalition (ATAC).
More information
Womb With A View
Sherry Millner
Sherry Millner (b.1950, Brooklyn, NY, USA) is an artist, film programmer and educator who lives and works in New York. With a stake in feminist self-organisation, Millner has been producing films, videos, and photomontages since the 1970s. Following studies at Cal Arts with Yvonne Rainer amongst others, she contributed to the first wave of feminist art practice that helped to establish women at the forefront of video practice. Her titles are remarkable for their mixture of humour, analysis, and personal insight that combine the languages of documentary, experimental film and art film. Embracing a wide range of issues in her work, from the mundane to the political, Millner portrays an acute sense of the sublime and the ridiculous — a necessary virtue when tackling U.S governmental policy. Often collaborating with her partner Ernie Larsen, their works critique domestic and foreign policies from within the family and everyday life as a site of radical, critical and cultural enquiry in ways that are funny, honest and atypically anarcho-political; foregrouding video-based practices as collective and non-hierarchical practices. Millner's work has been exhibited in the international touring exhibition, 'It's the Political Economy, Stupid! and has featured in screenings and exhibitions at venues such as MoMA, ICA Philadelphia, The Kitchen, The New Museum, Whitney Museum and the Whitney Biennial. A former editor of Marxist film Journal Jump Cut, Millner teaches at CUNY New York and organises regular events and screenings.