In 1945, French filmmaker and underwater aficionado Jean Painlevé had an optimistic vision for the future of cinema. "Soon the cinema will die. Its grandchildren will use an electromagnetic tape instead of film, colour television screens with cathode-ray tubes instead of projector bulbs […] In short, they will be beautiful grandchildren. Let's just hope they will continue to provide what the best of cinema does: a synthesis of art, science and poetry."[1]
Painlevé's imagination was accurate. Three quarters of a century later, cinema continues doing what it does best, offering fleeting images that nurture the long-lasting affair between art, science and poetry, reinventing itself each time anew while doing so. Some of Painlevé's most "beautiful grandchildren" followed his wake, pursuing the animistic and animalist traditions that characterised his cinema and photography and following his interest in an aquatic cinema that investigates water worlds and that is made by, with and probably for humans and nonhumans alike.
Such is the case of artists and filmmakers Lucien Castaing-Taylor and Véréna Paravel, whose film Leviathan (2012) revolutionised well-established traditions of documentary cinema and radically transformed conventions associated with the cinematic gaze. Affiliated to the Sensory Ethnography Lab at Harvard University, which promotes the expansion of the realm and possibilities of the ethnographic towards other languages, methodologies and subjects, Castaing-Taylor and Paravel make films and installations where the investigative and the aesthetic constitute and challenge one another.
Leviathan, their first collaborative film, offers a hallucinatory, unsettling and crude journey into the dark and cold heart of modern industrial fishery. The film questions most romantic tropes associated with seafaring and fishing while creating a unique imaginary of its own, one where heroic labour and stoic endeavours face the brutality of extractive capitalism and render visible one of the faces of its impact on our planet.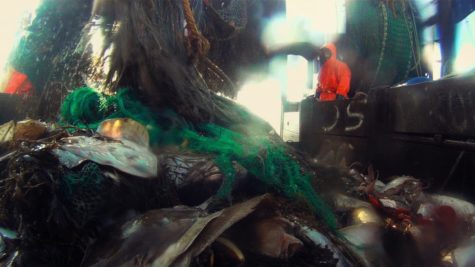 An unsettling portrait, Leviathan was entirely shot on handheld cameras, attached to filmmakers, crew and infrastructures alike. For these cameras, left alone to their filming duties, a fish or a gull, a hand or a cable, are even segments of information. For the filmmakers, they become a system to de-anthropomorphize what is filmed and to bring forward the unusual. The film is as violent as it is enthralling, revealing how the human and nonhuman figures it depicts are viscerally bonded to one another. Sailors, fish, birds, waves, wind, cables, chains and metal structures affect and shape all other elements and are profoundly engaged in a constant struggle between life and death, resource and consumption, individuality and collectivity. These clashes shatter the ideas associated with the romantic literary and artistic sublime, which finds its counterpoint in the cinematic rendering of the brutal exhaustion of maritime resources and of the people working under its extreme conditions. Rarely were the ghosts and monsters that haunt humanity's relationship to the sea so clearly exposed.
The film was shot from a groundfish trawler navigating the coast of New Bedford, Massachusetts. The city, known for long as the "whaling capital of the world", was one of the most important whaling ports of the nineteenth century. It remains one the largest fishing hubs of the United States, with over 500 ships sailing from its harbour every month. New Bedford is also where Herman Melville's Moby-Dick (1851) starts. It is from there that Ishmael, the famous epic's narrator, embarks on the three-year whaling expedition led by that "grand, ungodly, god-like man" that is Captain Ahab. But the "rare old craft" that is the Pequod, the whaling ship that chased Moby-Dick, has a more alluring aura, with its broken parts replaced by whale bones and its deck "worn and wrinkled, like the pilgrim-worshipped flag-stone in Canterbury Cathedral", when compared to the modern commercial trawler of Leviathan. For instance, a long shot of the ship's kitchen—plastic bottles, cups and plates lying next to industrial snacks wrapped in polypropylene—reveals the disposable reality of the ship's operativity, in sharp contrast to the "juicy clams, scarcely bigger than hazel nuts, mixed with pounded ship biscuit, and salted pork cut up into little flakes" eaten by the crew of the Pequod. Alas, Ahab's quest for a single whale also differs from the gargantuan and undifferentiated fishing mission of the trawler, each crew's consumption habits reflecting the shape and size of their ambition.
But images are only half of the film. Playing an equally important role in portraying this complex ecology, Leviathan's sound, edited by Ernst Karel (who was also a member of the Sensory Ethnography Lab team), is key. Underwater and overwater roars are hard to distinguish, the ocean and the trawler's noises generating and affecting one another in reciprocity that further exposes how enmeshed they are. A film that dispenses verbal language, Leviathan features little or no dialogue: the only human voices heard are sporadic, disembodied and incomprehensible cries shouted amid the constant thrum of the sea and the vessel's engine.
The film's credits, written in a white gothic font under a flat black setting, that correspond to the monstrous imaginary of its title, acknowledge the participation of the crew and all other life forms that took part in it. Gannets (morus hassanus) and seagulls (larus marinus), cod (gadus morhua) and halibut (hippoglossus hippoglossus), starfish (asterias vulgaris) and scallops (placopecten magellanicus), luna and mare, are all duly featured as actors of their own, often elegiac, story.
Dark and majestic, Leviathan proves that Painlevé was right in his wishful desire for forthcoming generations to steer the craft of a hybrid, complex and curious cinema. Painlevé had also aligned himself with a tradition of cinema that did not "dissociate research on film from research by means of film".[2] It is exactly this kind of cinematic vessel that Paravel and Castaing-Taylor steered further ahead and into uncharted waters, taking themselves and their viewers on unruly cinematic journeys beyond conventional, temporal and perceptive frames.
---
Footnotes
[1]Jean Painlevé, in "La place des français dans le cinéma", Cinquantenaire du cinéma (28 December, 1945): 40.
[2]Jean Painlevé, "Scientific Film" (1955), in Science is Fiction: The Films of Jean Painlevé (ed. Andy Masaki Bellows and Marina McDougall with Brigitte Berg) (San Francisco: Brico, 2000), 162.
---
Filipa Ramos
Lisbon-born Filipa Ramos is a writer and lecturer based in London. Interested in the relationships between contemporary art and cinema, her research focuses on how moving images address environmental and ecological topics and in particular on the modes in which artists' cinema fosters interspecies relationships across humans, nonhumans and machines.
Ramos is Curator of Art Basel Film. She is a Lecturer in the MRes Art:Moving Image of Central Saint Martins, London and the Master Programme of the Arts Institute of the Hochschule für Gestaltung und Kunst, Fachhochschule Nordwestschweiz, Basel.
Ramos is a founding curator of Vdrome, a programme of screenings of films by visual artists and filmmakers, which she co-founded in 2013 with Editor Edoardo Bonaspetti, Curator Jens Hoffmann and Haus der Kunst's Director Andrea Lissoni. In the past, she was Editor in Chief of art-agenda (e-flux), Associate Editor of Manifesta Journal and contributed for Documenta 13 (2012) and 14 (2017). She co-curates the symposia series The Shape of a Circle in the Mind of a Fish with Lucia Pietroiusti for the Serpentine Galleries, London. She is Head of Research and Publications for the 13th Shanghai Biennale, taking place between November 2020 and July 2021.