A view from the Bangkok Experimental Film Festival 2012
4 May 2012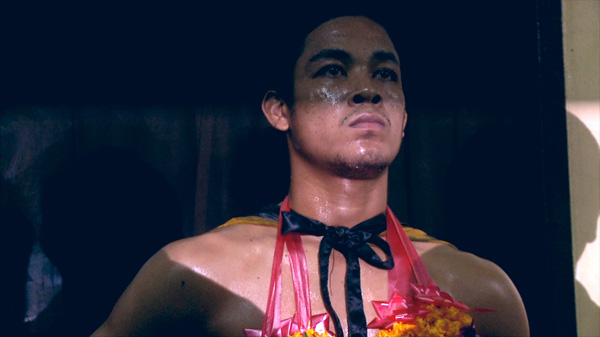 A Ripe Volcano, by Taiki Sakpisit, 2011)
"When you hear about 'terrorists' in the South think about Bernadette." This was theorist Benedict Anderson's suggestion for how a Thai audience can relate to Duncan Campbell's film.
The political activities of Bernadette Devlin at first glance seem a long way from contemporary Thailand but the discussion of this work was a central event at the recent Bangkok Experimental Film Festival. Inviting the local audience to think about this work, along with Steven Connolly's 'Two Coronations,'was one of the festivals central strategies to provoke historical reflection on the traumatic recent history of Thailand. Under the direction of curator and historian May Adadol Ingawanij,the 6th edition of the festival sought to explore and respond to Walter Benjamin's assertion that "articulating the past historically does not mean recognising it 'the way it really was'. It means appropriating a memory as it flashes up at a moment of danger."
In focusing on Connolly's exploration of the private and public face of the monarchy and the Campbell's study of republican activist, a space was opened up within the festival to comment on Thailand's current political situation, a discussion that has been silenced following the 2006 military coup and the ongoing suppression of democratic rights including the right to criticize or challenge the ruling government and monarchy. Activist and editor of Aan (Read) journal[1] Ida Aroonwong bravely made an explicit link between these distinct periods by recounting a notorious recent interview between ex-prime minister Abhisit Vejjajiva (PM between 2008-2011) and BBC correspondent Fergal Keane[2]. When asked why the official inquiry into the deaths at the protest was taking so long, Abhisit Vejjajiva responded 'how long did it take you to find out about Bloody Sunday?' But was then left silent when Keane reproached him stating that firstly he is an Irishman and secondly that it was known 'pretty quickly' that the British Government was responsible for turning the military on the people. A strikingly parallel with the situation in Thailand where although it is popularly known who is responsible for the deaths, it cannot be discussed in public.
The festival formally opened with the essay film An Escalator in World Order (Dir. Kim Kyung-man), a brilliant study of the determining political and historical conditions of South Korea. The film examines the hollowing out of South Korean society through the governments' submission and deference to America following the Pacific War. Interweaving archival footage and propaganda with material shot during various political and religious rallies held to mark the 60th anniversary of the Pacific War, the film counterpoints the rhetoric of pro-American sentiment with the economic and cultural concessions accepted by the country since the 1950s making way for destructive American business under the guise of US protection from the communists in the North. The film starkly presents the consequences of neo-liberal and global business with footage from a new state backed educational project that recreates American suburbs and streets ostensibly to help teach English. A cross between a fairground and indoctrination camp, this deserted artificial community, designed to build awareness of American and international culture, features a absurdly chilling sequence where a group of children are lead through a mock immigration hall where rather than presenting their passports they give the American staff member a high-five.
The festival contrasted such works with programmes of unearthed archival films including amateur, experimental and political films drawn from archives in Thailand, Singapore, Hong Kong, Taiwan, The Netherlands and New Zealand. A powerful contrast was created between historic depictions of Vietnam with contemporary work from Hanoi Doclab[3], an inspiring organisation and catalyst for film making and viewing in Vietnam. Still governed by state censorship and regulation, documentary filmmaking in Vietnam is highly restricted with filmmakers required to gain authorization to simply film or show their work in public.
Shot by photographer Nguyen Van Vinh during 1953-54 Spring and Festivalsis a remarkable record of Vietnam prior to the communist government rise to power in 1955. The film depicts Hanoi during towards the end of the French colonial period, showing street scenes, festivities and community gatherings. In contrast to this, HanoiDoc lab collaboratively made film 'Hard Rails Across a Gentle River'(Vietnam, 2011 Dir. Tran Thanh Hien, Pham Thu Hang, Do Van Hoang, Tran Thi Phuong) provided a series of reflections on contemporary Hanoi through the communities that congregate, live and work near one of the oldest bridges in the city. Acting as a meeting point and one of the few unregulated public spaces in the city, this area of old Hanoi is a site of resistance and cultural preservation, especially as seen in the swimmers who regularly bath naked in the river below. At one point a young woman who had run away from home asks the filmmakers to record a message for her mother, and delivers a stunningly intimate monologue in which she explains the reasons for her long absence, the difficulties of her impoverished life and dysfunctional relationships.
Reflecting the remnants and legacy of the Vietnam War, Nguyen Trinh Thi's A Chronicle of a Tape Recorded Over was improvised along the Ho Chi Minh Trail, a series of routes through the country and neighboring Laos and Cambodia developed by the Vietcong and North Vietnamese Army. Nguyen Trinh Thi, inspired by Apichatpong Weerasethakul's Mysterious Object At Noon, invited people along the route to tell her part of a fictional story that would be developed by others during the journey. Diverging from this initial premise the film is a rich and compelling series of encounters, with abandoned communities and monuments, people still living with the legacy of the war, distant memories of resistance and forgotten sacrifices. The title can be interpreted as a comment on historical amnesia in the region and more directly in relation to the filmmakers arrest mid-project for working without a permit. Amazingly Thi filmed part of the interrogation, in which we hear the police discuss their difficulties in controlling filmmaking in the region and how the way the country is depicted.
The local history of experimental film was explored by two programmes that took distinct approaches the genealogies of experimental practice in Thailand. Both programmes drew from the extensive collection at the Thai Film Archive, that was founded in 1984 by Dome Sukawong, a charismatic and passionate cineaste who helped to build the archives substantial collections. Curator Mary Pansanga traced the precedents and origins for experimental practice in via early works by cineasts including Dome Sukawong's abstract hand painted Nang Sod (1985) and Boring Blinker (1985) by Surabongse Binichkhah, a powerful and self-reflective flicker film juxtaposing images of crowds with extreme close-ups of the surface of an eye. Pathompon Tesprateep's Cutter, Trimmer and Chainsaw (2011) provided an interesting contemporary parallel in its exploration perception and textures of rough film splices via a pristine HD transfer. All the works related to issues of mediation, often existing somewhere between film and video, utilizing digital technology to add sound or edit but also as a materialist intervention. This mediation was the subject of Wiwat Lertwiwatwongsa's Loneliness is Everywhere(2007) that re-films Wong Kar Wai's Days of Being Wild from a Thai subtitled VCD version, a reflection on the way cinema is experienced across South East Asia.
Central to this programme was the incredible Madang Bo sai (1999) by Pasit Punpruksachat, a rich and compelling work that handles discarded material from a ethnographic film (the filmmaker was working in an editing studio when he made it) with a complex array of sounds, carefully designed to suggest various origins or associations for the elusive imagery. The striking withholding of legible imagery results in a rare assertion of the aural environment over the visual as the primary filmic experience.
In contrast to this programme, Pathompong Manakitsomboon assembled a selection of works from the vast collection of amateur films held at the archive. Thailand has a long and prolific history of amateur filmmakers, most famously the Royal family themselves who helped to inspire this national pastime of the middle and upperclasses. Selected with an eye to formal strategies influenced by contemporary practice, Pathompong unearthed various remarkable films, from the early work such as Duenbab (Modelling) by Amarin Pajonyuth that juxtaposed a fashion parade with what first appears to be informal home footage of actions that are repeated and rehearsing in a similar stances, to a minimalist road movie traveling through rural that evoked the later spectre of cosmopolitan directors exploration of rural Thailand and early impressionistic films of modernity via a symphony of street lights to a advertising cut-up.
Curator David Teh's presented a programme looking at the idea of the peripheries, distance and longing as defining factors of media practice in the region. Such early works as Apichatpong Weerasethakul's 0016643225059 (1994) David argued stem from the formative experience of mediation that comes with foreign travel or study. Made in Chicago the film presents a brief broken phone call with Apichatpoing's mother, where he attempts to ask her to send him some photos. The film features fragments an apartment door with quick flashes of portrait photos that flicker in correlation with the disrupted telephone conversation. A recent reflection of distance could be seen in Tanatchai Bandasak's Lalita (2009), that features Thai actress Lalita Panyopos in a romantic encounter in Paris, which in turn becomes a distilled image of longing and desire transposed onto the distorted imagery of this nostalgic drama.
The notion of periphery is central to Sittiporn Racha's Galanusathi a slow paced and moving film that follows a monk on a retreat who receives news that his brother was one of the people killed in the 2010 demonstrations. Left to deal with this tragedy on his own we observe him silently going about his duties, leading up to a scene at night where we quietly watch him cry alone, isolated, desperate and unable to communicate his loss, a situation that mirrors the countries double trauma of violence that it is illegitimate to discuss. The programme concluded with Patty Chang and David Kelly's collaborative video,Route 3(2011) a three screen work made in Laos reflecting on the Chinese government's plans to build a road through the country that will link China through to Thailand and a network of roads that eventually lead to Europe. Utilsing observed scenes as well as subtle interventions and performances; the work is a compelling study of the politics and economics of China and its influence on its various neighbor states.
The festival appropriated concluded with A Ripe Volcano (Taiki Sakpisit, 2011), a powerful film about the state of anticipation and suspension that defines contemporary Thailand. Featuring scenes of incredible potent and withheld power, the film carefully traces the build-up of tension through surveying preparation for different rituals, from schools, to military camps and sporting events. Intercut with images that evoke the recent political violence, the awesome work is a penetrating signature of a nation on the verge of massive change but little security as to how the country will develop.
[1]http://readjournal.org/ – English version of journal available here: http://readjournal.org/ann-english/
[2]The interview featured in the BBC2 documentary 'Thailand – Justice Under Fire' part of the 'This World' series, broadcast on Sun 7 Aug 2011.
[3]Supported and housed at the Goethe Institute in Hanoi allowing them to show work with greater freedom. http://www.hanoidoclab.org/
---
George Clark