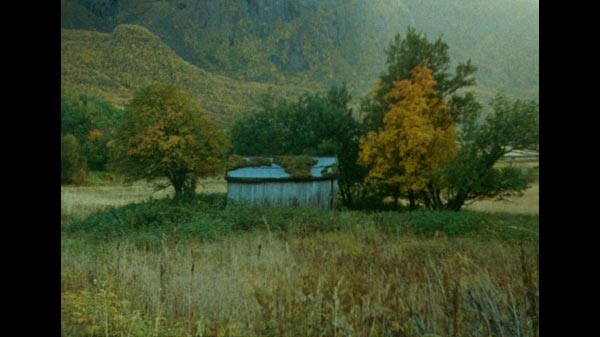 Still from Ben Rivers' Sordal, 2008.
LUX Cornwall
New Programme and Calls for Opportunities in the South West
17 Dec 2015
LUX is pleased to announce a series of events and initiatives in the South West in March and April 2016, including a residency at Tate St Ives, a week-long intensive workshop at Kestle Barton led by acclaimed British artist and filmmaker Ben Rivers and a mini-festival of artists' moving image at Arnolfini in Bristol.
PARALLEL at Arnolfini, Bristol
4 – 6 March 2016
Call for Curators
PARALLEL is a mini-festival of artists' moving image organised by the Independent Cinema Office in partnership with LUX. It will take place at Arnolfini in Bristol from 4 – 6 March 2016.
We are seeking proposals from curators who would be interested in curating and presenting a programme at the event. We are interested in ideas that investigate contemporary currents or concerns in artists' moving image practice, and which respond to the particular site of the cinema. Successful proposals receive a fee of £500 (in addition to all reasonable film hire charges for programmes)
For more information and to apply, download the information sheet and application form here
Deadline: 10 January 2016
The Cornwall Workshop with Ben Rivers
11 – 18 March 2016
Call For Participants opens on 6 January 2016
The Cornwall Workshop is a weeklong intensive residential workshop for artists, filmmakers, curators and writers based in the South West. The 2016 Workshop will be led by acclaimed British artist and filmmaker Ben Rivers and will focus on artists' moving image practices, with an emphasis on analogue technologies.
The Workshop is organised by the Cornubian Arts & Science Trust (CAST) and is programmed with LUX.  It will include discussions, screenings, excursions and activities led by Ben Rivers, expanding upon key themes explored in his work: from the concept of 'edgelands' and his interest in the physical and conceptual borders of society to portraiture and ethnography. Rivers works almost entirely self-sufficiently, shooting on 16mm stock using a wind-up camera and processing his films by hand. The programme will include a day-long practical workshop where participants will learn the basics of artisanal 16mm production, from working with a Bolex camera to hand-processing.
The workshop is designed to provide opportunities for artists, filmmakers, curators and writers, who are resident in Cornwall and the South West and have an interest in working with the moving image.  Previous experience in filmmaking is not essential, but applicants should be able to demonstrate why they are interested in exploring the medium of film.
The Workshop will accommodate ten participants selected from the open call and a small number of invited international participants. This year's selection panel includes Teresa Gleadowe, independent curator and writer; Ben Rivers, artist and filmmaker; and LUX.
The opening date for applications is 6 January 2016. Please visit The Cornwall Workshop website for further details on how to apply and to download the application form. Completed applications must be received by email no later than 5pm on 5 February. Applicants will be informed of the outcome of the selection by 12 February.
During its residency, LUX will set up a temporary extended office in the historic Porthmeor Studios, which will act as a space for research, reflection and production as well as a base for its public programme. Over the course of four weeks, LUX will re-centre its core activities in the region, delivering a programme of screenings, discussions, workshops, touring projects, and artist support and professional development initiatives that have been specifically conceived in response to the Cornish context.
The residency programme aims to map out a history of artists' moving image practice in the region, considering what might constitute a Cornish tradition of visual culture through conversations with artists, venues and audiences. Working in collaboration with a network of partnering organisations across the region, LUX will develop a touring film project that explores potential resonances with specific communities and places. Other highlights of the programme include a weekend of screenings and events celebrating the 50th anniversary of the London Filmmakers Co-operative – a primary organisation in LUX's historical lineage – to introduce new audiences to key holdings within its collection. LUX's educational and artist support programme will include an introductory theoretical course on artists' moving image; an analogue filmmaking workshop using natural materials from the Cornish seaside; a series of professional practice seminars and one-on-one feedback sessions for artists.
For more information on these events and initiatives: [email protected]