In association with LUX, the ICO's 2020 national film tour Second Sight explores the legacy, methods, aesthetic strategies and histories of the UK's Black Film Workshop Movement.
The Black Film Workshop Movement developed throughout the 1980s, a pivotal decade in UK culture and society. Against a backdrop of divisive national politics and civil unrest, a series of radical filmmaking collectives sprung up.
Their films explored the Black community's relationship to Britain's colonial past; whilst also looking to the Civil Rights movement in America, Black feminism, Pan-Africanism, the struggle of apartheid, and the emergent fields of postcolonial and cultural studies.
Second Sight incorporates key archive films from the period as well as new commissions from contemporary film artists, created in response to the Workshop context.
An ICO touring project in association with LUX,  with support from the BFI Audience Fund and Arts Council England awarding National Lottery funding.
——–
Claudette's Star, Ayo Akingbade, 2019, 6 minutes
Acting as part ode and through a series of interpretations, Claudette's Star depicts young artists considering with sheer wonder who is given a voice. Directed, produced and edited by Ayo Akingbade.
Ayo Akingbade is a British Nigerian artist and filmmaker based in London who has produced a number of acclaimed artist films exploring the contemporary Black experience in London, particularly in relation to housing. Her film Tower XYZ (2016) received a Special Mention Award at International Short Film Festival Oberhausen and won the inaugural Sonja Savić Award at Alternative Film/Video Festival, Belgrade. Akingbade has since produced five new films including Street 66 (2018) which premiered at the International Film Festival Rotterdam and A is for Artist (2018), which premiered in the Experimenta strand at the BFI London Film Festival. She is an alumnus of Sundance Ignite and New Contemporaries. www.ayoakingbade.com 
Read Ayo's blog about her latest commission.
——–
Collective Hum, B.O.S.S. Collective, 2019, 7 minutes
A short film exploring the polyphony of collectivity in the desires, motivations and stories that foreground the histories and present(s) of Black British sound. Collective Hum documents a collective in practice through the operation of B.O.S.S using multiple narration, overlapping voices and the sound of group interviews, meetings and events to create a polyphonic score to soundtrack images of the 'collective bodies, kinaesthetic experience and gestural language' of sound system culture.
Onyeka Igwe (part of B.O.S.S. Collective)
Onyeka Igwe is an artist filmmaker, programmer and researcher. She is born and based in London, UK. In her non-fiction, video work, Onyeka uses dance, voice, archive and text to expose a multiplicity of narratives. The work explores the physical body and geographical place as sites of cultural and political meaning. www.onyekaigwe.com
B.O.S.S. collective are: Adae, Deborah Findlater, Evan Ifekoya, Gin Resis'Dance, Jlte, Hakeem Kazeem, Marcus Macdonald, Mellowdramatics, Mwen, Naeem Davis, Natasha Nkonde, Onyeka Igwe, Shenece Oretha, Phoebe Collings-James, Shy One, Sad Queers Club (sqc) and Shamica.
——–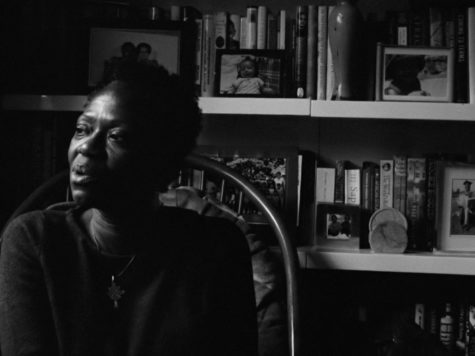 South, Morgan Quaintance, 2020, 28 minutes
Taking two anti-racist and anti-authoritarian liberation movements in South London and Chicago's South Side as a point of departure, South presents an expressionistic investigation of the power of individual and collective voice. Interlinked with Morgan Quaintance's own biography (time spent living in both London and Chicago), the film also considers questions of mortality and the will to transcend a world trypified by concrete relations.
Morgan Quaintance is a London-based artist, writer and curator. His critical essays and texts have been published widely, whilst many curated group exhibitions and events have been staged across the UK. His moving-image work has been shown recently at LIMA, Amsterdam, and Cubitt Gallery, London. He has upcoming solo exhibitions at KARST, Plymouth, LUX, London and David Dale Gallery, Glasgow. His acclaimed essay film works explore the overlooked recent socio-cultural histories of the UK; his film Another Decade considers the failure of the 'new internationalism' in the UK arts since the 1990s. www.morganquaintance.com
——–
Your Ecstatic Self, Rehana Zaman, 2019, 32 minutes
Your Ecstatic Self is a conversation unfolding in a car with Sajid, the artist's brother. As the journey progresses Sajid discusses his engagement with the philosophy and practice of Tantra, having spent the majority of his 44 years as a strict Sunni Pakistani Muslim. Placing the idiosyncrasies of western fetishism towards eastern philosophical traditions alongside cultural orthodoxies and ancestral knowledge, Your Ecstatic Self takes up multifaceted expressions of desire, intimacy and sexual agency.
Rehana Zaman (b. Heckmondwike) is an artist based in London. She works predominantly with moving image to examine how social dynamics are produced and performed. Her work speaks to the entanglement of personal experience and social life, where intimacy is framed against the hostility of state legislation, surveillance and control. Recent and upcoming solo commissions include Serpentine Projects, London, UK (2019); Liverpool Biennial 2018, Liverpool, UK and CCA, Glasgow, UK (2018). Her films and installations have been shown at Bergen Kunsthall, Norway; Kochi-Muziris Biennale 2018, India; Berwick Film and Media Arts Festival, Berwick Upon Tweed; Sheffield Doc/Fest; ICA Miami, USA; SAVAC, Canada; Oberhausen Film Festival, Germany; ICA London and Bétonsalon Paris. In 2019 she co-edited Tongues with Taylor Le Melle; a collection of writing emerging from her solo exhibition at CCA Glasgow published by PSS and also curated The Range; a group exhibition at Eastside Projects, Birmingham.