The first post in our new series VERTIGO by Curator in Residence Ellen Greig focusing on verticality, power and the limits of the visible in artist moving image from the LUX and Cinenova collections.
In the opening scene of Alfred Hitchcock's 1958 thriller, Vertigo, John "Scottie" Ferguson (James Stewart) is literally found in a state of vertical suspension —hanging onto his life as he grips to the façade of a skyscraper, with the ground looming ominously beneath him. Here, Scottie is caught in an uncontrollable state of fear – fear of heights, fear of falling, fear of disorientation, fear of ultimately losing control. Disabled by such severe symptoms of vertigo, he is unable to pull himself to safety. In vain, Scottie's colleague tries to reach out to help him, but in doing so falls to his death beneath the towering cityscape of San Francisco.



Vertigo was the first film to utilise 'dolly zoom', a visual effect that distorts perspective between foreground and background to create disorientation and, in this example, convey Scottie's acrophobia. The aerial view from above is now an established perspectival model, expanding our spatial and temporal experience from linear to vertical. The use of aviation techniques in World War I gave rise to a new relationship with the bird's-eye-view, prompting an increase in the desire to elevate the limits of vision to ever-greater heights and to occupy previously uncharted vantage points. In 1946 U.S satellites produced the first images of the Earth, and on July 20, 1969, those with access to a television witnessed Apollo XI land on the moon – expanding our relationship to our celestial and cosmological surrounds, and ultimately initiating the battle to colonize outer space. Skyscrapers have continued to rise at an expediential rate globally, and air flight is so commonplace that at any one time there can be more than 10,000 planes in flight around the planet. An increase in the prominence of technologies of mapping, military reconnaissance, surveillance, tracking and targeting are now deeply integrated into the minutiae of our everyday lives, effecting notions of privacy as well as invasion, promoting new visualisations of power, and powerlessness; all monitored and mediated through physical and invisible vertical interfaces.
With this upward mobility and shifting relationship to the surface of the Earth, have we found our selves in a permanent state of vertigo? Are we under the illusion that our horizon line has expanded, the ground under our feet collapsed and our vision decentralised? Artist and writer Hito Steyerl suggests, 'if the new views from above recreate societies as free-falling urban abysses and splintered terrains of occupation, surveilled aerially and policed biopolitically, they may also—as linear perspective did—carry the seeds of their own demise within them.i With this vertiginous experience, new types of visuality arise.
Advancements in electronic and lens-based media have aided the development, as well as the mass distribution, of our orientation and continuous navigation of vertical space. The view from above is now pervasive enough to have become an important feature of early twenty-first Century popular cinemaii, as well as gaming culture and virtual reality. The optical, spatial and illusionary quality of film and video, as well as easily accessible digital artistic software has become a site for artists to explore the affective, political and epistemic dimensions of the view from above. As Walter Benjamin famously noted in 1936, the medium of film, at its simplest, reflects various accelerations in Modern societyiii.
Jenny Okun's The Receding Landscape, 1977, meditates on the experience of commercial air transportation, from ascent and descent, contrasting feelings of weightlessness with anxiety and control. The film starts abruptly with an electronic "beep", swiftly followed by a female voice-over, delivered in breathless haste, introducing passengers to Flight 101Y to Vancouver. Moving images of an airport runway shift in axis from horizontal to vertical, transporting our gaze high into the sky until we are looking down upon the Earth below. In a constant, aggressive contrast to the passive imagery, the voice-over continues to assert flight information, including the safety requirements and smoking policies of the World Service Airline flight.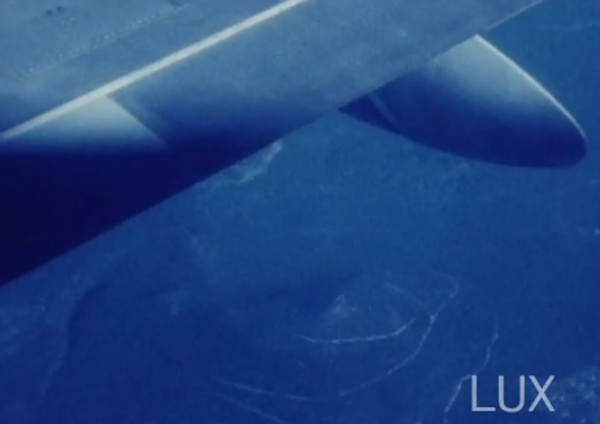 The window seat view of the flattened landscape below changes occasionally, almost always clutching onto an image of the object at the centre of the experience – the aeroplane. Be it the wing or window frame, the image, as well as the instructional voice-over, do not allow the viewer to fall into views of distanced abstraction. Okun's treatment of the hand-held camera footage, the pace of the voice-over and powerful moments of silence creates an awkward tension between the militant, commercial operation of flight transportation and the possibility of experiencing the visual pleasure, or fear, of elevation. Caught in this anxious space the viewer remains divided between two very contemporary spaces unable to gain control over the experience. The view from the cabin gets darker as night draws in, the voice-over continues, constantly reminding the viewer of the clinical and routine gesture of the machine, drawing attention to the paradox between horizontal and vertical viewpoints, between what is near and what is far and what is experienced at the same time.
In Our Magnolia, 2009, a single channel 16mm film by Rosalind Nashashibi and Lucy Skaer, Paul Nash's painting, Flight of the Magnolia, 1944, acts as a point of departure. The film opens with a single shot of Nash's mesmerising painting of a magnolia exploding in flight through a pastel palette of pink and blue imbued skies, elevating high above the bellowing waves below. Painted amidst the ominous threat of a German invasion of England, the airborne blossom fills a sky now permeated with a looming anxiety of imminent aerial warfare. The painting is known as part of a group of works that the artist called 'aerial flowers', confirming his longstanding fasciation with flight and skyiv. Building upon Nash's ability to distil a sense of weary anxiety Nashahibi and Skaer layer footage of seemingly unrelated imagery into a composite that comments on remote actions of oppressive power, obstruction, decay and decline.
The film moves through footage of actual magnolia flowers against sombre skies to waves lapping against an empty grey beach, before focusing on a decomposing whale skeleton, zooming in on the bones of this once impressive animal as it seeps into the ground, becoming one with the Earth's surface. Video footage of an American Airline plane moving towards flight is quickly replaced by footage of the response to the looting of Iraq's National Museum, followed by man sitting in front of a computer, obscuring the content on the screen. A desk with a press shot of Margaret Thatcher, with her head held high and her eyes looking to the sky is observed for a period of time.

These fragments of information coalesce, bringing a brooding latency of technological hubris, oppression and war subtly to the surface. Nash's painting gives rise to new contexts, and returns to the frame only to become abstracted in the process. Our Magnolia is a short and direct film that relinquishes the relative consolation of a fixed or stable point-of-view in the process of representation, and instead we experience a myriad of varied contexts which, when intercut with one another explore affect modulation as a key factor in the operations of power.v
Vertigo is a series of responses to works in the LUX and Cinenova collections that reflect and relate to verticality as a formal, political and conceptual device, concentrating on power relationships and the limits of visibility. Taking verticality as a literal and metaphorical tool, this series will address artists' moving image in relation to the very real, very present moment of living in the vertiginous.

Ellen Greig is a curator based in London. Most recently she worked as Assistant Curator at Liverpool Biennial 2014, where she worked with artists Bonnie Camplin, Aaron Flint Jamison, Angie Keefer, Hassan Khan and Peter Wächtler, among many others. Curatorial projects include, 'A Picture is no Substitute' (Seventeen Gallery, 2014), London; 'For Inclusion in the Syllabi', (Pigeon Wing Gallery, 2011); 'Are You Experienced (?)', (SPACE, 2010) and 'The Object of the Attack', (David Roberts Art Foundation, 2009). Ellen has worked as a visiting lecturer at Camberwell College of Arts, London and College of Fine Arts: UNSW COFA, Australia. She holds an MA in Curating Contemporary Art at the Royal College of Art, London.

iii
W. Benjamin,
The Work of Art in The Age of Mechanical Reproductions,
trans. By J. A. Underwood, (Penguin Group 2008) p.3
iv
Tate online [http://www.tate.org.uk/art/artworks/nash-flight-of-the-magnolia-t07552/text-summary]
v
Brian Massumi,
Parables for the Virtual: Movement, Affect, Sensation,
p. 86