Perhaps the realisation that Blackness is a necessarily multi-accentual
sign provides a means to escape either-or-ism. Blackness evolves in
fractal patterns. What we can usefully say about it depends on the scale
of the analysis which is being undertaken.
–– Paul Gilroy (1988)
Unburdening the Black Filmmaker
In 1988, an interview between curators and artists, Rasheed Araeen and Eddie Chambers was published in an issue of Third Text – a theoretical art journal founded by Araeen. When prompted, Chambers assuredly defines Black art as: "(..) art produced by Black people largely and specially for the Black audience, and which, in terms of its content, addresses Black experience. It deals within its totality the history of slavery, imperialism and racism, which affects the position of Black people here in the West, as well as other parts of the world — in the Americas, and in Africa itself. The function of Black art, as I saw it a few years ago, was to confront the white establishment for its racism, as much as to address the Black community in its struggle for human equality. I think Black art still has that role to play." [1]
Thirty-plus years later, the praxis and distinctness of Black art is still contested, unstable and reformed with every new coveted platform – this is especially true in an European context. Past the value of their artistry, Black British cultural producers are preoccupied with the question of 'authenticity' and 'audience'. If Black art is made for Black people can it then only be accurately assessed by Black viewers? Should they also be working-class, from an inner-city and theoretically literate? The Black artist is made responsible for the collective esteem and representation of their communities, who are otherwise grossly neglected or used as a tool of propaganda. They are made responsible for making as many of us as possible, feel seen and heard through testimony and praise. But if the work fails to do these things, does it now disqualify it as Black art?
The pedagogy of Black cultural critics, Kobena Mercer and Paul Gilroy are key in thinking through this cross-generational concern. In his 1988 essay, Cruciality and the frog's perspective Gilroy asserts that: "The issue here is one of priorities, and I think the priority for the Black artist is to address Black people. I suppose if you are realistic and you are concerned with the Black community, you need venues which are located within and recognised by our own community. I'm aware of all these problems, but we cannot escape our responsibility to the community." [2] But our communities are class-ridden, fumbling with ethnic antagonisms and other barriers to access. Meaning, unconsciously or not we end up prioritising and scaling certain art forms over another. From experience, the reception for a local documentarist who relies on independent forums like Deptford Cinema pales in comparison to a high art film screening at Tate Modern. The latter is richly stocked by aficionados and novices alike, invested in the continuation or a new making of a Black middle class – which is sadly still heralded as a prominent sign of racial progression. Without a well-funded infrastructure to support talent based on talent alone, commissioning opportunities remain entangled with tokenism and patronage. Which requires pandering that breeds competition and distrust amongst Black artists. The stakes are high, for space and status.
Kobena Mercer organised a one day conference, Black Film/British Cinema at the ICA in February 1988, inviting prominent Black thinkers including; June Givanni, Coco Fusco and Paul Gilroy to cross-examine the state of Black filmmaking in the U.K. Despite his best efforts, Mercer learned that good intentions don't always meet public expectations. "Whether one is making a film, writing a book, organising a conference or curating an exhibition, this 'sense of urgency' arises because the cultural reproduction of a certain racism structurally depends on the regulation of Black visibility in the public sphere." [3]
The most important validation for any artist who is 'realistic' and 'concerned with the Black community' is exemplified in the films of Ayo Akingbade through her clear authorship, unique point of questioning and her earnest personal motivations for story-telling. Her filmography so far shows how Black art might begin from the documentation within the category of Blackness and push out to the margins of constructive differences.
Akingbade's 2019 film Claudette's Star opens to a young woman walking through a field of lavender to the sound of a distorted version of Derrick Harriott's 1967 record The Loser, she eventually lays down to sungaze. A title page introduces the film and places us inside the first institutional solo exhibition since 1990 for British artist Claudette Johnson at Modern Art Oxford. Johnson, like other members of the BLK Art Group and the 1980s Black British Arts movement, has only recently received some overdue public acknowledgement and support. Akingbade and another woman walk through the gallery to survey Johnson's oversized charcoal drawings and question what makes a painting 'good'. Later, the viewers are introduced to the mammoth-sized library at the Royal Academy of Arts, where Akingbade studies. After moments of seemingly-aimless wandering, four Black students face the camera and introduce their favourite books in the collection and eventually trail back and fade into the ceiling-high bookshelves.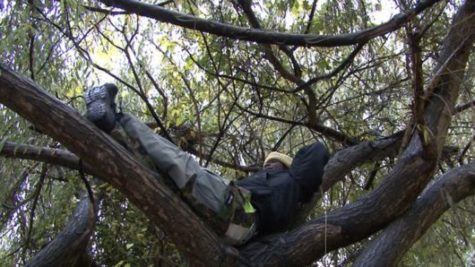 In Hella Trees (2020), sitting in a small white-walled studio, Akingbade asks the only other person in the room, a young Black man wearing a cream-coloured beanie hat low enough to obscure a third of his face: "Okay, let's talk about trees. Why are you so obsessed with them?." The answer is plainly stated against moving and still portraits of him outside interacting with the large-trunked trees found scattered around London. In one scene he stops at a timber with low-hanging decorative branches announcing, "This one is giving me oriental vibes". Unsatisfied with simply taking pictures of his new wonder, Rafiki climbs the tree and positions himself securely on the strongest arms all whilst remaining visible to his tripod-supported camera. Freshly inspired, the conceptual artist Rafiki returns to his studio and his free thoughts narrate his painting process. "Trees are like frozen people" his obsessive fixation on silent nature is endearing and free from anxieties around racial particularities.
Through the generous and generative filmmaking of Akingbade, the viewer maneuvers the space between Black consciousness and artistic freedom that is complementary rather than mutually exclusive. We can indeed, sit together to talk about culture, aesthetics, value and modernity without our respective identities being thrown into conflict.
Gilroy closed his 1985 addressment at Black Film/British Cinema with this thought: "I suppose at the end of the day, I want to say that some of us are born here, some of us are struggling to come to terms with our ambiguous, incomplete and subordinate experience of Englishness – at the same time as we connect ourselves to Black histories elsewhere and yet also recognise the emptiness of national identities as such.. None of us has a monopoly on Black authenticity."
---
Footnotes
[1] Rasheed Araeen & Eddie Chambers, Black art: A discussion (1988), Third Text
[2] Paul Gilroy, Cruciality and the frog's perspective: An agenda of difficulties for the black arts movement in Britain (1988), Third Text
[3] Kobena Mercer, Black Art and the Burden of Representation (1994), Welcome to the Jungle: New Positions in Black Cultural Studies
---
Rianna Jade Parker is a writer, critic and researcher based in London, UK. She is a founding member of interdisciplinary collective Thick/er Black Lines and is a contributing editor of frieze.