[T]he more important a film is, the less it is seen. Excessive? Well, then, see the films of René Vautier or of Patrice Kirchhofer, see Djouhra Abouda and Alain Bonnamy's Ali in Wonderland (1976), see the films of Tobias Engel or of Bruno Muel. …These films mean nothing to you, or not very much? They are essential; it's starting from them that a true history of cinema must be written, and not starting from the notoriety of works that reflect only the quantitative criteria imposed by the industry.
—Nicole Brenez[1]
When Maria Palacios Cruz, Deputy Director of LUX, asked me to curate a LUX Salon, I tried to think about how I would approach the opportunity. Since moving to London a year and a half ago, I've tried to find productive excuses to dig through the collection and look at as many film and video works as possible. Archive fever is real.
One of my interests as a curator, especially when thinking about how to approach a collection of moving image works, is finding ways to make visible the works that seem invisible. It probably goes without saying, but in the LUX collection of over 7,000 works, only a fractional amount rent and circulate widely while others sit on the shelf for years. Some of these stagnant works don't show for good reason: they're boring, incompetent, tedious or just plain terrible. (Side note: we should save and find creative ways to show terrible films too.) But it seems unreasonable to saddle all little-known works with these descriptors, especially when we've not taken the time to view and consider them ourselves. So what's the solution? Does one pick a particularly obscure figure and decide to show all of her/his works? Or decide on some theme that brings to light a variety of works, considering sometimes these lesser-known works have little qualitative description and no images to give much of a hint to what they might contain? Perhaps there is some more quantitative way to consider works: films or videos made during a certain year, or in a certain place, or of a certain length?
It was an exciting enterprise to view a whole range of works that were completely unfamiliar, and I'd argue that many of the films hold some special value individually.
I decided to approach the LUX collection (patriotically) looking for American experimental films, but doing so in a somewhat quantitative way.[2] While many of the big names of the American avant-garde tradition are represented in the collection—Maya Deren, Jonas Mekas, Bruce Baillie and Abigail Child among them—I gave my search an extra filter: I was looking for films that are not in distribution with one of the major artist film distributors in the US. With some previous knowledge of the collections of the Film-Makers' Cooperative, Canyon Cinema, Video Data Bank, EAI and the MoMA Circulating Film Library, I went through the LUX collection checking artists and titles against what's readily available in the States. In doing this fact-checking, I noticed there were more than 20 artists with probably more than 40 works in total found at LUX which are not in regular circulation in their country of origin. I'm sure I've missed more than a few artists and works that fit these criteria.
When I got around to viewing a portion of these films, I encountered a predictable mix: some tired, boring works as well as some that might be diamonds in the rough.[3] In the end, I selected four films for the screening, each of which is ostensibly a different format: 16mm silent speed; 16mm sound; 16mm silent speed with sound on tape, and double 16mm with scent(!). It was an exciting enterprise to view a whole range of works that were completely unfamiliar, and I'd argue that many of the films hold some special value individually. In one surprising case, I think I may have identified a rare right-wing American experimental film. In any case, very little information exists on these particular films and images generally aren't found online. Below I'd like to relate information on some films that I viewed, in hopes that it might generate some new perspectives and information.
It was an exciting enterprise to view a whole range of works that were completely unfamiliar, and I'd argue that many of the films hold some special value individually. In one surprising case, I think I may have identified a rare right-wing American experimental film. In any case, very little information exists on these particular films and images generally aren't found online. Below I'd like to relate information on some films that I viewed, in hopes that it might generate some new perspectives and information.
Shelby Kennedy, The Bruce Nauman Story (1968, 16mm, sound, 11') / Lightning Waterfall Fern Soup (1969, 16mm, sound, 9') / Headgear (1969, 16mm, sound(?), 5')
LUX holds a few films by Shelby Kennedy, a sculptor and painter who made a handful of films around the San Francisco Art Institute at the end of the 1960s including two collaborations with Alice Anne Parker (formerly Anne Severson). The Bruce Nauman Story is a well-made portrait film. Beginning with a nude Nauman waking up and introducing his biography, the film juxtaposes several fairly conventional portraiture shots (eating breakfast, working in the studio) with Nauman standing outside of these same shots, interacting with a projected image of himself. The Bruce Nauman Story turns into one of my favorite kind of artist documentaries: more than a mere document of the artist talking about or producing a work, it becomes a collaborative expression between subject and filmmaker to embody the spirit of the artist through its formal elements.
Kennedy's Lightning Waterfall Fern Soup is a prototypical San Francisco '69 experimental film with poetic intertitles ("Generation of Clouds" / "Blind White Pictures") in between shots of a man collecting ferns in the forest and preparing them for a soup. This ritualistic imagery is overlaid with Pauline Oliveros's now-legendary 1965 electronic composition "Bye Bye Butterfly." Oliveros was one of the founders of the San Francisco Tape Music Center, and compositions by other SFTMC-associated musicians (like Patrick Gleeson and Kenneth C. Jacobs) soundtracked films by Bay Area filmmakers of this era, such as Bruce Conner, Constance Beeson and Gunvor Nelson. There's a second film on the same reel, the enigmatic Headgear, but perhaps that should remain a mystery for a while longer. In a preview of a 2004 exhibition in Cloverdale, CA, Kennedy describes moving away from film in the early 1970s in favor of metal and clay-based sculpture.
Robert Luttrell, Advanced Garbage Film (1977, 16mm, sound, 8')
Looking at the fittingly-named Advanced Garbage Film, we see a slop of drawing, scratching, and any number of direct cinema interventions on what looks like camera footage of a projection of different handmade films. The camera zooms in and out of these images while the extra-photographic layers on top remain. It's psychedelic but not too heavy. The film has a sketchy, literally "experimental" feel to it. A search connects the film to the legacy of abstract graphic works made at CalArts, as it was shown in a fifteen-program retrospective of CalArts films at the Centre Pompidou in 2007. After CalArts, Luttrell started the company Cynosure Films which did optical effects for films like Stranger Than Paradise and Down by Law.

Caption: William Moritz, Gertrude Stein Film excerpt from LUX Salon, January 21, 2016
William Moritz, Gertrude Stein Film (1969, double 16mm, sound, 9', note: rose incense should be burned during projection) / Abstractions: Jude (1970, 16mm, sound, 3')
William Moritz was a magnetic figure in Los Angeles's experimental film community from the 1960s until his passing in 2004. Especially known as a historian of experimental film and avant-garde animation, Moritz was also a professor, curator and filmmaker who made many works that aren't readily available in the United States. The Center for Visual Music holds his archive and has compiled a valuable filmography, from which we can see descriptions of his films, many of which utilized multiple projections. Gertrude Stein Film is one such work, with two films shown side-by-side with slight variations in image. The tape manipulations on the score are particularly impressive, at one point turning a children's record into some proto-dub echo feedback. Abstractions: Jude is a short, curious piece that shows images of African sculptures (mostly from slides) cut against shots of Jude, a black woman whose gaze overtakes the viewer. Abstract overlays puncture the woman's movement. It's unclear how we should interpret this psychedelic, transfixing work. Moritz suggests it's "a portrait of seeing someone" which seems a fitting place to start. Neither of these two films is held at Light Cone in Paris but they do hold nine other films by Moritz.
Gordon Ball, Revelation (1967, 16mm, silent, 8')
Whereas the prints of most of the films I'd chosen for the screening were in great shape, this was not the case for Revelation. The film is scratched and ancient-looking. Two women are shown brushing their long hair and caressing each other, the image turning from sepia to color. A study of light play and the contours of the two bodies, the film is not so much erotic as a study of shape and movement. It's more sculptural than anything but one can imagine that this male perspective on two nude women didn't pass muster in the increasingly theoretical and political screening climate of the LFMC during the 1970s and 1980s. Indeed, filmmaker Gordon Ball doesn't list the title in his filmography though he claims in his memoirs that P. Adams Sitney liked it.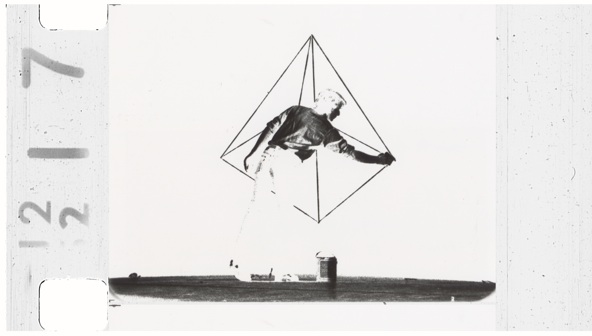 David Haxton, Pyramid Drawings (1976, 16mm, silent, 11')
Pyramid Drawings is one of artist David Haxton's studies in line, shape and dimensionality. The artist appears in a room, drawing lines on a wall. The film is shown in negative and he creates black lines against a white background. We soon realize what the title leads us to assume is "drawing" is something different; the lines are actually pieces of string which are colored with paint before they are cut down off the wall. The lines of the pyramids, at first appearing rigid and geometrical, occasionally move and wobble before floating down towards the floor. More than just an optical trick, the combination of these elements keeps the viewer engaged and stimulated during the film's 11 minutes. Archivist Mark Toscano is in the early stages of restoring Haxton's films at the Academy Film Archive (he writes in detail about the restoration of Cube and Room Drawings on his blog) but in the mean time the artist's personal site provides lots of information.
Peter Beckman, Third Time Never Finishes (1981, 16mm, sound, 13')
The first film I screened while researching this project was the film I felt most indifferently towards. Third Time Never Finishes is very generous in its self-association with Fellini and Truffaut. The bad lighting and sound compliment self-consciously poor, melodramatic acting. The film is cheesy new wave-era camp and somehow reminds me of another fourth wall-breaking underground film (Paul Bartel's 1968 The Secret Cinema) but isn't anywhere near as successful. Filmmaker Peter Beckman gives the film a mention on his LinkedIn profile.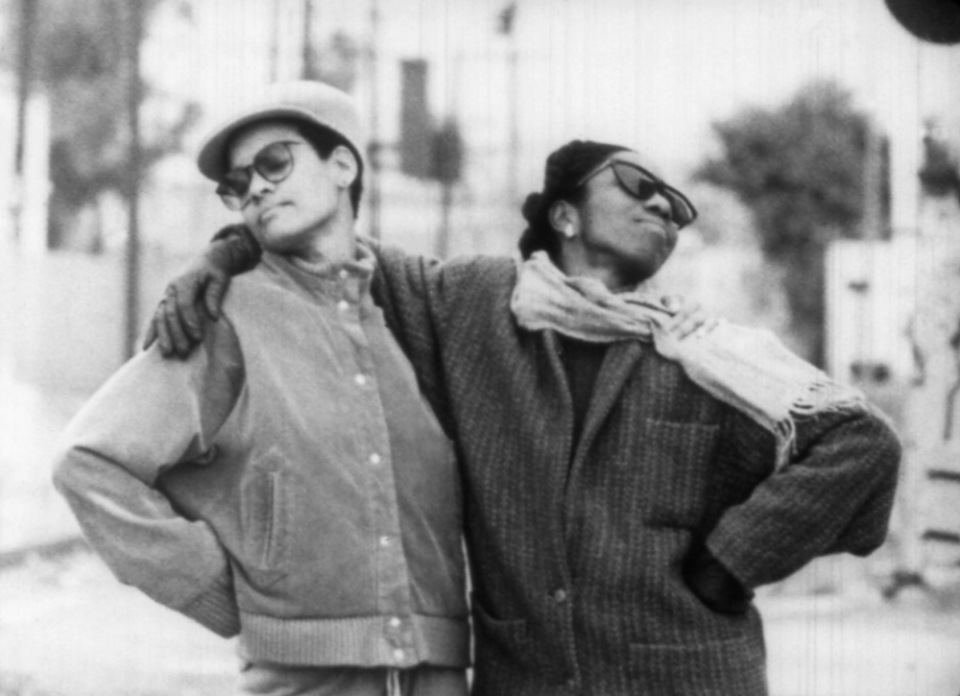 Zeinabu Irene Davis, Cycles (1989, 16mm, sound, 18')
An artist associated with the LA Rebellion school of filmmakers, Zeinabu Irene Davis created this short film around a woman's experience of waiting for her period and the quotidian rituals of self-purification she engages in during this wait. Like the best films of the LA Rebellion, beautifully poetic visuals provide the background for stories from the perspectives of the African-American and African diaspora filmmakers and subjects. Davis's work over the years has explored the connection with the female body and Cycles elegantly shows the root of this subject in her oeuvre. But it's not without humor and heart: the end credits are run underneath a collage of women describing cravings, compulsions and mood swings they experience during menstruation. Cycles was restored by the UCLA Film + Television Archive for the LA Rebellion project, though the restoration format is digital, making LUX's 16mm print rare (though upon further review Cycles is distributed on both 16mm and DVD through Women Make Movies). The film was brought into the collection as part of a three program series called New Directions in American Avant-Garde Cinema (1993) curated by Tony Warcus and M.M. Serra, which also featured films by Mark Street, Greta Snider, Jim Hubbard and Serra herself (whose undistributed 1977 feature Chameleon I unfortunately didn't have time to view for this project).
Fred Marshall, Occasion (1970, 16mm, sound, 14')
I wasn't sure what to expect when threading Occasion through the Steenbeck. It was mentioned in the LUX blog post "The long tail of the LUX collection," from a project undertaken by Gil Leung and Mike Sperlinger in 2011 to similarly uncover unrented films in the LUX collection. Here the film is referred to as a "poppy, slyly political collage from the late 1960s." I'd go further saying the film is racist, reactionary and genuinely stupid. As an American, I feel very embarrassed on its behalf.
The film shows an idealized, dream vacation throughout Europe. Beautiful women, sunny beaches and neon lights lead the way. Marshall cuts these images between b/w file footage of various war skirmishes as if to say "but wait, this happened here too!" A quick montage associates a man shouting at an amusement park with Hitler. Footage of a massacred Jew cuts to an old man sleeping on a park bench. Marshall, an American expatriate who moved to Swingin' London in the late 1960s, elides time and space to make dangerous and bullheaded generalizations of people and places. Instead of seeing European beach resorts mirroring sites of genocide and atrocity, why not examine North American land and the erasure of native peoples by European settlers? The film is especially perplexing when one considers that Fred Marshall lived the last decades of his life in Asia, making social documentaries and becoming a historian of Asian cinemas. Perhaps there is good reason that this film isn't mentioned in nearly any writings on his films from Popdown (1967) onwards.
Sandy Daley, Berkeley Bath Brothel (1966, 16mm, sound, 30')
The strangest work I viewed during my research is also the work which I've found the least information about. Sandy Daley is most often referenced in relation to two very well known artists: Robert Mapplethorpe and Patti Smith. Daley was their neighbor at the Chelsea Hotel, giving Mapplethorpe his first Polaroid camera and making two films with them, Robert Having His Nipple Pierced (1971, with voiceover by Smith) and another film of Smith getting a tattoo of a lightning bolt on her knee. While references to these events abound, little is mentioned of the works that Daley made as an artist and filmmaker.
Berkeley Bath Brothel is indeed one of these elusive works from 1966, a kind of Happening translated onto 16mm. The film starts with a three-minute length of black leader and some ambient sound. Following this delayed start, we see a group of hippie types milling around, smiling and wearing little in the way of clothing (some sort of makeshift togas). The group poses in a tableau vivant for the purpose of reconstructing a Medieval painting of a bath brothel. The perspective is framed, the filmmaker states, "in the linear perspective of the period." Very academic! The group poses, this pose is broken, people laugh, eat meat, dance. There is a dog. Eventually the image separates and two exposures are simultaneously shown. The picture becomes sluggish, more dreamlike. It's the beautiful type of experimental film that is simultaneously pointless and excruciating, while also a elegant window onto a specific time, place and emotion. The film ends with the same long sections of black and clear leader, giving the audience a few minutes to air themselves out.
Caption: Ralph Records, Jinx (Tuxedomoon)
Ralph Records, Jinx (1981, 16mm, sound, 3')
The holy grail: an American film in the LUX collection, not distributed in the US but actually on YouTube. Jinx is one of the Ralph Records films, essentially 16mm music videos for their roster of avant-garde and post-punk bands like The Residents (founders of the label), MX-80 Sound and Yello. "Jinx" is a track from the second album by San Francisco post-punk band Tuxedomoon. In the clip, singer Winston Tong delivers a pained, bondage-tinged performance after band member Blaine L. Reininger acts out a baffling scene with pink rubber gloves, toothpaste and a toilet seat. Jinx and the rest of the Ralph Records films are seldom-shown documents of art-tinged punk rock from the west coast US. A 2012 screening at Bristol's CUBE seems to have shown a few of the prints but maybe the collection could make up a set between any of London's ample noise-pop and post-punk bands on a gig at DIY Space for London?
I titled the screening, which happened at LUX on January 21 2016, "Found yet lost: rare American films in the LUX collection." But these films are really neither lost nor found. They've been sitting on the shelf for many years waiting to be projected. And one screening to 53 viewers isn't necessarily some massive change in their status. But perhaps the above information will help fill in some gaps or spur on some new research into these or other works.
There are numerous ways to replicate this type of programming. Here's one that I've always dreamt of: Untitled. Screen every untitled work in the collection. Your instant program will feature works by Peter Gidal, Lucy Clout, Katherine Meynell, Stan Brakhage and Peter Todd. You'll see Yugoslav video art and several 16mm films from 1970s Germany, contents unknown. You'll see a four-part activist video series by Jayce Salloum and animation trailers so short they're gone before you blink. It will all unfold over five hours or so. Take this program, it's yours now. Bring a pillow.
See original programme: LUX Salon, Found Yet Lost: Rare American Experimental Films in the LUX Collection
Footnotes
[1] Movie Mutations: The Changing Face of World Cinephilia, ed. Jonathan Rosenbaum and Adrian Martin, BFI Publishing, 2003
[2] This isn't without precedent. The LUX collection has a valuable resource for American avant-garde films over the years, though one likely overlooked by North American academics. In one case, the LUX archive held the only remaining print of a film by American artist Warren Sonbert. This distribution print was used as the master material for a restoration when the Academy Film Archive and Estate Project for Artists with AIDS restored the complete filmography of Sonbert.
[3] Most of the works I identified were 16mm films, as very few American videos in the collection are not represented by EAI or VDB.