Audio Description: Translating moving images
Sat 10 Oct 2020 / 1 - 4pm
LUX hosts an audio description workshop led by Elaine Lillian Joseph as part of current online exhibition Jenny Brady: Receiver 
In this interactive session, we will explore different types of experimental audio description for blind and/or partially sighted audiences and how to centre those users in future described work. The event consists of a talk followed by a Q&A and a collaborative workshop, scripting a short film from LUX's archive. The film will be sent ahead of the workshop.
Elaine Lillian Joseph is an Afro-Caribbean audio describer for ITV and freelance describer for queer events (Bar Woteva, Melaneyes). By day she works on the nation's favourite soaps (Coronation Street), period dramas (Sanditon, Victoria) and reality TV shows and by night she provides live commentary of cabarets and dance shows.
This workshop is part of a new ongoing LUX series exploring access in artists' moving image, not as an afterthought, but as a creative impetus which does not presume sighted or hearing audiences which began in September with an exhibition and events series catalysed by a new moving image work Receiver by artist Jenny Brady, which considers how we both speak and listen, and the question of who has the right and capacity to be heard. The exhibition includes which includes a new audio-described version of Receiver, scripted and performed by Elaine.
Please note this event will be recorded so it is accessible to those that are unable to attend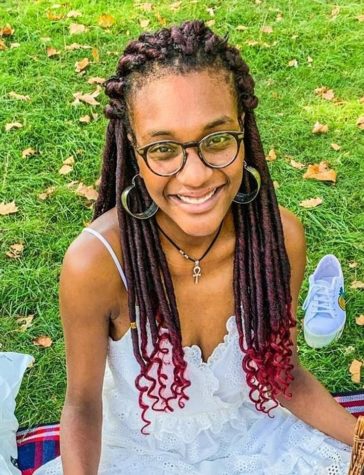 Photo description: A bespectacled Afro Caribbean woman in a white strappy dress with frills. Maroon locs with light red curly tips cascade over her shoulders reaching her elbows. She's crossed legged, sitting on a picnic blanket in a park. The sun soaks her brown skin making her smile broadly. Oversized silver hooped earrings dangle from her ears, matching a silver ankh necklace.
Supported by Art Fund