Steve Dwoskin was born in Brooklyn in 1939. At the age of nine he contracted polio and spent the rest of his childhood and much of his adolescence in a rehabilitation hospital in West Haverstraw, outside New York City. He studied at Parsons School of Design in the late 1950s, and became a graphic designer. During the same period, he became an aficionado of European art cinema and the nascent American independent cinema. Having moved to Manhattan with his wife Suzanne in 1963, he gravitated toward the downtown art scene, in particular the newly formed Film-Makers' Co-op, organized by Jonas Mekas, and became an underground filmmaker. His contemporaries included Jack Smith, Ron Rice, Barbara Rubin, and Andy Warhol.
In September 1964 Dwoskin moved to London, without Suzanne, as a Fulbright scholar in design. At the end of the scholarship a year later, having found employment as a teacher at London College of Printing and as a freelance designer, he stayed in England, settling in the Notting Hill area. In 1966 he began to show his New York films, with soundtracks added by Ron Geesin, and became a founder – along with Ray Durgnat and others – of the London Film-Makers' Co-op. At the turn of 1967–8 his New York films – Alone, Naissant, Soliloquy, Chinese Checkers – won recognition at the fourth international experimental film festival held at Knokke in Belgium. On his thirtieth birthday, 15 January 1969, he opened his first solo show as a painter, and debuted two films, including one shot in London, Take Me. The official debut of his first completed British film, Me Myself and I, followed shortly afterwards. It had already inspired a magazine collaboration with J. G. Ballard. 
In the late 1960s and early 1970s, in addition to the LFMC, Dwoskin's films were shown by the New Cinema Club and The Other Cinema, at venues including The Place. From the autumn of 1970 his first major colour film Moment (1970) was included in a regularly mounted NCC programme called Acts of Love, along with Carolee Schneemann's Fuses (1967). In the same year Schneemann appeared in Dwoskin's first feature, Times For, which also marked his first major collaboration with composer Gavin Bryars. This continued through a series of feature films in the early and mid-1970s: Dyn Amo (1972), Central Bazaar (1973/6), Tod und Teufel (1973), Behindert (1974). The latter film was the first in which Dwoskin appeared as himself, opposite his regular collaborator Carola Regnier.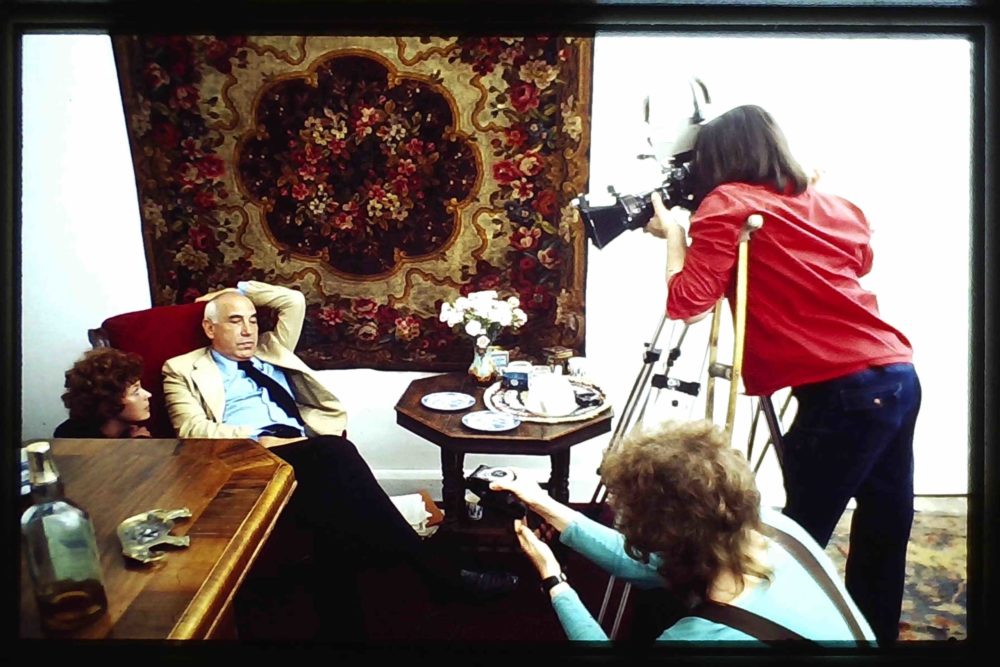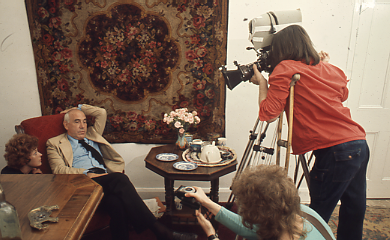 These films, and others of Dwoskin's from this period, belong to what Peter Wollen, in 1975, theorized as the 'second avant-garde', by contrast with his earlier films, which emanated from the 'first', co-op-type avant-garde. His peers included Jean-Marie Straub and Danièle Huillet; the Berwick Street Film Collective, Laura Mulvey and Peter Wollen; and Peter Whitehead, all of them distributed by The Other Cinema in Britain. In late 1977 Dwoskin collaborated with the Berwick Street Film Collective's Marc Karlin on a BBC documentary intended to prevent the closure of The Other Cinema's short-lived cinema. It was a forlorn attempt, and Dwoskin did not make another film until 1981, the autofictional Outside In. Like Behindert, this starred Dwoskin as himself, this time in a frequently comic register. 
Dwoskin followed Outside In with two feature-length documentaries made for the Arts Council: Shadows from Light (1983), about the photographer Bill Brandt, and Ballet Black (1986), about the pioneering Black British ballet troupe the Ballets Nègres. In 1988 he reunited with Regnier to make his first and only studio film, Further and Particular, inspired by the proto-Surrealist Alfred Jarry and the Surrealist Georges Bataille, and shot in France, where he had a strong critical following. Subsequently he made a short documentary about Brendan Behan and an experimental video piece, Face Anthea, also with French backing. Other projects from this period, including one on Marina Tsvetaeva, fell by the wayside. 
In the same year as Outside In, Dwoskin had co-programmed a National Film Theatre season on the representation of disability, 'Carry On Cripple'. Ten years later he was commissioned by Channel Four to make a documentary on the same theme, Face of Our Fear, his first major work on video, shown as part of the launch of the channel's season 'Disabling World' in 1992. In the same years Dwoskin contributed writing to Disability Arts Magazine, though he was ambivalent about being positioned as 'a disabled filmmaker'. In 1994 he made an autobiographical compilation film, Trying to Kiss the Moon, using material from his and his father's archives, reflecting on thirty years in what he still saw as a foreign country. 
Dwoskin's next commissioned film, Pain Is (1998), a documentary about the varieties of pain, was his last. Subsequently he returned to the underground mode of production, and a more personal style, with Intoxicated by My Illness (2001/2), a film deeply marked by his increasingly limited mobility and deteriorating health; and by his adoption of new digital filmmaking technologies, which became the hallmark of his prolific last decade. This culminated in one of his most powerful films, The Sun and the Moon (2008), based on the Beauty and the Beast tale, and featuring Beatrice 'Trixie' Cordua, his muse since Trixi (1971), almost four decades earlier. His last film Age Is was completed by many hands, and was first shown in 2012, the year of his death.
XXX
On 18–19 June Metrograph, New York, will host a series of screenings and a launch event for DWOSKINO: the gaze of Stephen Dwoskin, with special guest J. Hoberman.
---
Henry K. Miller is a senior research fellow at the University of Reading, author of The First True Hitchcock, editor of The Essential Raymond Durgnat, and co-editor of DWOSKINO – available now from the LUX.