Dwoskin took his first turn toward the autofictional with Behindert (1974), 'a documentary without being one, a diary without being one', as he described it at the time. Made for the West German television station ZDF and starring Carola Regnier opposite Dwoskin, it's a simple, linear story of a relationship beginning and ending. Almost without dialogue, the soundtrack is dominated by a plangent Gavin Bryars drone, with occasional snatches of melody, and the film is overwhelmingly sad. Even as Dwoskin was preparing it, however, the seeds of his next encounter with himself on screen were sewn, during a farcical incident immediately after the massacre of eleven Israeli athletes at the 1972 Olympic Games in Munich.
Dwoskin had flown from Munich, where Regnier was then living, to Frankfurt, to visit Beatrice 'Trixie' Cordua, the day after the attack, and arrived at an airport swarming with police. Dwoskin was first left to wait on the tarmac, then rushed out of the airport by ambulance, but had to return for his luggage: 'while I managed to convey the need to collect my bags, I could not persuade them to let go of my arms as we made our way back into the airport, despite the glaringly obvious fact that they were hampering my movements,' he recalled. 'I had already torn my trousers getting out of the ambulance; now I was struggling through the terminal with the two men hanging on to me, not understanding a word I was saying,' until Trixie saved the day.
Indignities of this kind were a fact of Dwoskin's life, and by the early 1980s he was ready to mine them for a second film. When he pitched it to ZDF, in the spring of 1980, Dwoskin had scarcely touched a camera in more than two years. His mobility had been further impaired when he broke his leg in Paris, in April 1978. The film-cultural climate he had been operating in since the late 1960s, the nexus of institutions like the London Film-Makers' Co-op, The Other Cinema, and the Royal College of Art, no longer had a place for him (in the first instance), or had essentially come to an end (in the second), and he had been teaching in California for extended periods. 
It seems that ZDF invited him to pitch at the 1980 Rotterdam film festival, and it may well be that the invitation was to make a film for the first United Nations Year of Disabled Persons, scheduled for 1981; certainly Dwoskin curved his pitch to this end. 'I intend to create, in story and in fantasy, with anecdotes and with humor', he wrote, a sense of 'how the able-bodied world in which I live appears to me'. A 'major point', he went on, 'is to show and to reflect upon the able-bodied's reactions, prejudices, curiosities and general attitudes towards the physically disabled'. But a consistent theme in Dwoskin's writings is an ambivalence towards being defined as disabled first, filmmaker second. In one interview he said that disability became 'a convenient metaphor' for his real concern, interpersonal relationships, more acceptable to funding bodies than films like Dyn Amo. All the same, it was not only a metaphor. 
NFT programme guide for Carry On Cripple, reproduced in full in DWOSKINO, available now
Dwoskin's 'research' involved giving a series of taped interviews to a group of exclusively female friends, the transcript of which – its authorship still unclear, but not Dwoskin – is one of the most revealing sources on his early life. In the event, hardly any of the memories it contains went into the film. Simultaneously, as his vision for the film came together during 1980, with the working title 'ZDF 3', Dwoskin worked on ideas for a film season at the National Film Theatre, co-programmed with the film critic Allan Sutherland, also for the Year of Disabled Persons. Sutherland, who has epilepsy, was then embarked in writing a landmark book of disability rights activism, Disabled We Stand, published in 1981. The season, mounted in February 1981 and given the title Carry On Cripple by Dwoskin, was a survey of the representation of disability on film, with Behindert the sole instance of a film directed by a disabled person.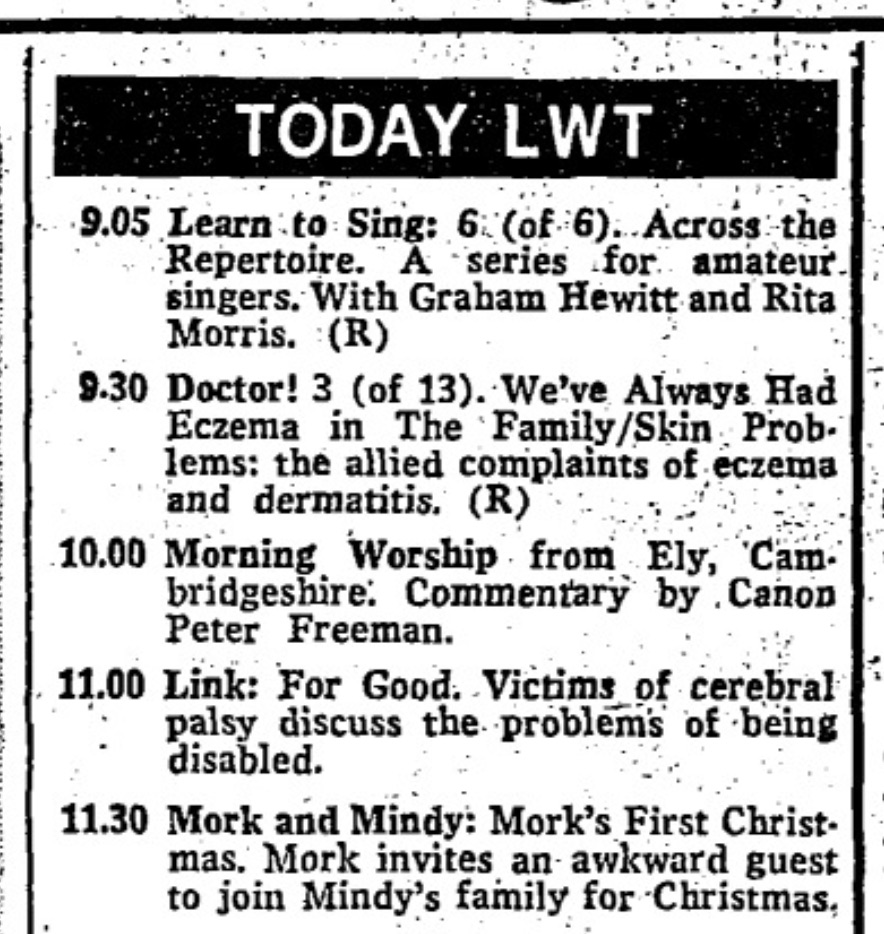 Listing for For Good
Another collaborator on this project, who would also serve on the crew of Outside In, was Christine Booth, who had made a documentary while at RCA about three people with cerebral palsy, telling their own story in their own words, For Good, which was broadcast on ITV in December 1980.
Dwoskin and his producer at ZDF, Eckart Stein, had been trying throughout 1980 to find additional sources of finance in Britain – from the BBC, ITV companies, and the BFI, which had recently begun to focus its energies on producing feature films for the festival-and-art-cinema circuit. All of this came to nothing, however, and Stein found the experience of trying to make arrangements with INA in France and RAI in Italy 'like trying to build a film with pudding'. Jeremy Isaacs, head of the nascent but not yet extant Channel 4, held out prospects for the future, but finally ZDF had to go it largely alone, and the film was greenlit with a deadline of May 1981, under the title Inside Out.
We are immensely pleased to say that Allan Sutherland will introduce a screening of a new 4k scan of Outside In at BFI Southbank on Monday 7 February.
XXX
---
The Dwoskin Project is based at the University of Reading and supported by the AHRC. Visit its website: https://research.reading.ac.uk/stephen-dwoskin/
The Dwoskin season runs at the BFI throughout February. DWOSKINO: the gaze of Stephen Dwoskin is available now from the LUX.
Henry K. Miller is a senior research fellow at the University of Reading, author of The First True Hitchcock, editor of The Essential Raymond Durgnat, and co-editor of DWOSKINO.