First post by LUX Artist in Residence Conal McStravick
"When you take on a commission for a television film, whether documentary or fiction you're constantly aware of the fact that you're learning through that process. It reminds me of the situation when I was doing a lot of video installation work and I could never get all the equipment together at any one moment in time to see what the piece was going to be like. I had this fantasy about what this piece was going to be like. When I got all the equipment together, it was never quite how I had imagined. But it was really very difficult because I saw other people around me working on pieces where they'd got the means of production there within their control, and they could go through the learning process in quite a private way in their studio. I find that a terrific tension- to know that one's learning in this fantastically public medium."[1]
Learning in a Public Medium is an active research project on Stuart Marshall (1949-1993). It brings together artists and researchers whose practices build new and developing ideas and strategies with the aim of thinking through Marshall's legacy as artist, activist, writer and teacher with intersecting research and practice. As well as testing new critical contexts, works are presented through the channels Marshall sought out and helped to develop, not least London Video Arts which later became LUX.
Learning in a Public Medium takes its cue from the above quotation, a late reflection by Stuart Marshall, where he compares bringing together the elements of an early installation, with the gathering and presentation of ideas in a television commission, as a process of learning in public.
I am sitting in the LUX / Electra offices with Irene Revell and Ash Reid, it is mid-2015.
Irene, Ash and I are preparing for a LUX Scotland workshop on Stuart Marshall and the feminist performance score. At the root of this workshop is a discussion of the political and artistic field of 1970s, post-Cagean sound and performance practice. This is determined by my own research into Marshall and Irene's current interest in the work of Alison Knowles and Annea Lockwood. Knowles and Lockwood co-edited Womens Work[2] (sic), an exploration of the feminist performance score in 1975, at approximately the same time as Marshall's entry into video from sound.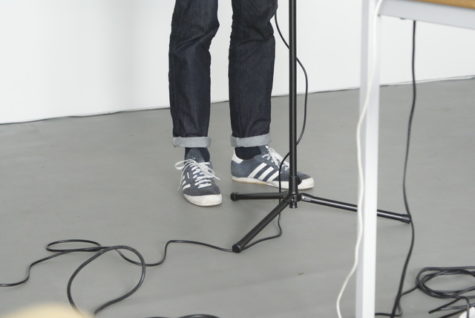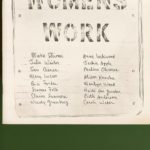 Image Credit: (Left) Rhyme or Reason (Right) Womens Work
The purpose of the workshop is to compare the work of Marshall on one hand with the work of Knowles and Lockwood and at the same time to try to understand Marshall's early video/sound work in light of post-Cagean and feminist practice. The workshop will begin with Marshall's Go Through The Motions, 1975 followed by Pedagogue the 1988 collaboration between Stuart Marshall and Neil Bartlett. In the workshop we will read a recent interview with Marshall's friend and collaborator Nicolas Collins and we conclude with Alison Knowles 1963 performance Shoes of Your Choice[3].
When I began my research Marshall's early sound work, from an archival perspective, was the most difficult to explore. Several of Marshall's sound works continue to be performed[4], especially if one takes into account as I and others concur, that certain Marshall video falls into this category. However the great majority of Marshall's sound works including sound installations remain unknown. In contrast, Marshall's video catalogue, even if incomplete, remains largely in distribution and is shared between the collections of LUX, Vtape and Li-ma amongst others. Marshall's writing is well disseminated if as yet unpublished in one volume.
All this changed in 2013, when to coincide with a revival of Idiophonics, a 1972 Marshall performance, David Toop posted an online reflection across four decades. The following year Nicolas Collins responded in-kind by making public his personal archive of Marshall's sound work collected since the mid-70s. This includes invaluable scores from Marshall's Wesleyan MA thesis Zones 1971-72 including graduate and post-graduate compositions and site-specific installations: in effect an online raisonné of early Marshall sound works, various reviews and documentation images.
Since the beginning of 2015, in preparation for the ongoing Learning in a Public Medium events and screenings, such as the Electra event, I have met or communicated with Gavin Bryars, Nicolas Collins, Alvin Lucier and David Toop to consider Stuart Marshall's sound works in the context of their reception, following Marshall's move into video and television, up until the present. These conversations have helped me to map out Marshall's first decade in sound, a little known area of his practice.
Through these interviews, it has become clear to me that Marshall made a virtue of the shortcomings of sound in a UK art school context. It is also clear that, after his period of study in the States with Alvin Lucier, his return to the UK introduced new thinking on the value and teaching of sound in an art school context. The recognition of these facts shouldn't come at the cost of Marshall's place in the sound art canon. Indeed, to re-consider Marshall's sound allows a better understanding of the shifting ground of 70s performance and sound, a rich pretext for his activity which followed.
Learning In A Public Medium seeks to affirm Marshall's importance in the emergence of UK sound and video and to clarify the foundation which sound art provided to Marshall's later activity. The first two posts in this on-going blog on Marshall's work and legacy will examine Marshall's sound practice and for the first of these I shall draw on the defining periods in Marshall's move from sound to video, from student at Hornsey College of Art, Newport College of Art and Wesleyan University, to tutor at Newcastle Polytechnic and founder member of London Video Arts.
– – – – – –
Hornsey, London, 1967-68
David Toop: I mean if we have to use this wretched term 'sound art' then let's be clear about who was innovating in it. If we're going to make this category then let's be serious about its history. If you make a category then you presuppose a history. I think you would definitely have to include Stuart as one of the people who is exploring sound with something that was detached from music and detached from musicology, and was an experimental medium in its own right.
I am sitting in the forecourt of the British Library with David Toop and Irene Revell in mid-2015.
I ask David how he and Stuart Marshall met.
David remembers that it was quite by chance that he, Stuart Marshall and Stuart's partner Jane Harrison sat together on the first day of their foundation at Hornsey College of Art in 1967. Stuart and Jane, teenage sweethearts, had just moved from Manchester. Toop, Marshall and Harrison established common cause in experimental music.
Recalling almost 50 years later, Toop observes that Marshall had a certain savvy:
"He really knew what he liked and didn't like. He was absolutely scornful of things that he didn't like."
Even so, not before long Toop was lending a reluctant Marshall his Ornette Coleman records:
"He thought all jazz was like trad, you know?
As David explains it was not so easy incorporating an interest in sound into foundation:
David Toop: For both Stuart and myself there was this strangeness of being very interested in sound and yet being on this art course, so there's nobody to help you in that situation. There's mutual support and a foundation of knowledge which builds up very quickly. I remember we went to an AMM concert at the Queen Elizabeth Hall. Which was a big concert of experimental music. We went together to that. I think we supported each other a bit. In the sense of taking the piss out of this strange course. Everything was very analytical and I kind of got myself in a mess, really.
The foundation course at Hornsey was archetypal, little changed since first conceived by Harry Thubron, the previous decade. Toop explains all three were students of Gwyther Irwin, a supportive and popular tutor. By contrast the course was thoroughgoing, inflexible and out-of-step with the demands of students. All that would change the following May, as a one day student sit-in set the tone for six-weeks of occupation, events that would garner national attention.
David Toop: The sit-in came along and I just threw myself into that. It was a salvation to me. Everything fragmented at that point. So all of the relationships that were built-up broke apart to some extent and we were thrown into this student occupation. It was a real life-changer.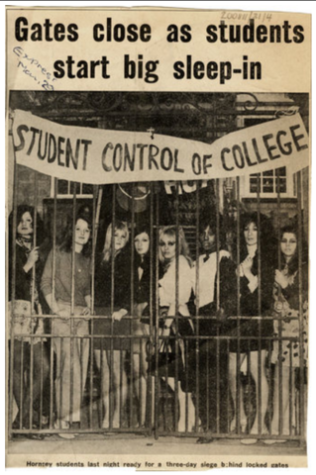 Frenetic activity ensued and hierarchies folded as students and teachers combined forces to run the school. Toop threw himself into the fray, organising an occupation fundraiser booking The Social Deviants and Hornsey Light & Sound. At the same gig Stuart Marshall and Jane Harrison performed a LaMonte Young and Marian Zazeela bowed gong piece, one of the first performances of Young in the UK.
However, Toop stormed out hours before the gig. Earlier that day Buckminster Fuller had come to address the sit-in. Lengthy preparations for the Hornsey Light and Sound show later that evening were undone in minutes as the large assembled audience dismantled equipment and pulled down black out blinds and projection screens.
David Toop: I remember Stuart phoning me that evening during the gig saying, "Why aren't you here? This is great!"


I asked David how these events influenced him and how they might have shaped those involved. Furthermore if he thought this set the pretext for Stuart's involvement in artist-run activity and activism.
Conal McStravick: I can't imagine you could have been there and not been influenced by that in some way?
David Toop: No, I mean either it would be an adventure or it would be life changing. For me it was life-changing. I can't help but feel it had an impact on later ideas about collective practice, collaborative work, all of which is really important to me.
Not long before our conversation I watched the recently discovered documentation of a London Video Arts meeting from 1981 which includes Stuart Marshall. It was the first time I had seen Marshall, an extraordinary glimpse of artist-led activity at that time. I shared this with David and Irene.
Conal McStravick: In that meeting Stuart is very singular. He does seem like someone who commands a certain respect.
David Toop: Oh yeah. He was always quite a powerful person. He had a presence. And he had a kind of authority, which was a kind of quiet authority… Stuart wasn't to be diverted which is a funny thing to say because he was diverted dramatically, both in terms of personal matters and practice. He was a sound artist. He was one of the pioneers of sound art in this country.
– – – – – – –
Newport, Wales, 1968-71.
Gavin Bryars: I think he needed someone who could talk his language. People were interested and impressed by his work but they weren't sure about how it stood up in the graded scheme of things. Was it any good? They didn't have the criteria to comment on it.
I am sitting in a cafe at St. Pancras with Gavin Bryars in late 2015.
In mid- 2015 I made contact with Gavin, who met Stuart Marshall in around 1969-70, while Marshall was a student at Newport College of Art. The two remained friends throughout the 70s.
Gavin and I have met to discuss how Stuart's sound work took shape during his years at Newport.
It's not clear how Marshall and Harrison ended up in Wales after Hornsey, suffice to say in some regards it was a progressive programme of study. Unlike art colleges such as Portsmouth where Bryars taught, or Ipswich & Ealing under Roy Ascott, Newport was not without limitations for those working in sound. Gavin Bryars had been at Portsmouth College of Art a short time when he and Marshall came into contact. Later teaching at Leicester College of Art, Bryars came to Newport to give Marshall tutorials.
I asked Gavin if it was Stuart or the college that initiated this.
Gavin Bryars: If I recall, one of Stuart's tutors got me in as he knew me from Portsmouth or elsewhere. There were oddballs like Stuart, at least one or two in every art college. People who were doing things outside painting and sculpture and it wasn't that clearly defined. Links to post-Cage, Fluxus events, the fringes of experimental music and conceptual art. Most of the staff didn't really know what was going on and left them to it. There was usually one or two of the tutors who were sympathetic but unsure of the context.
Bryars notes that freer approaches were on the horizon. Courses such as Ipswich and Ealing that permitted new methods to sit next to painting and sculpture. Practices that sought to expand beyond the studio or gallery. I mention to Gavin that a performative mapping of landscape in sound inspired by land art and the landscape of South Wales seems to define these Newport works, most clearly seen in '3 Mountains' published by Source magazine[5] in 1972, after Marshall had left for the US.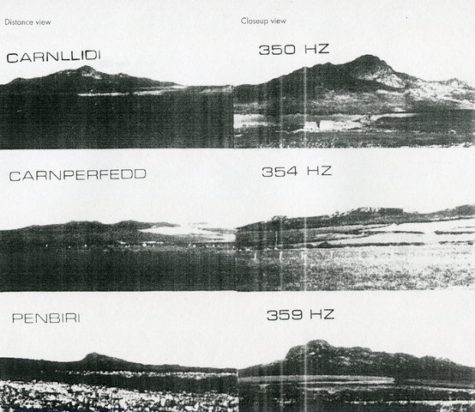 Gavin Bryars: Stuart was doing performance related things at Newport and he started doing outdoor works, in specific geographical locations towards the end of that time, something which almost involved musical performance.
This leads me to ask if Marshall was in any way musically trained and if this mattered. To training, Bryars thinks not but is certain Marshall had talent and conviction and a real feeling for music and sound.
The final hurdle for Marshall was to convince his tutors and external examiners at his degree show in Newport in the Summer of 1971. So confounded were the examiners, Bryars was brought in and it fell to Gavin who'd seen Marshall's work develop at first hand, to write a report setting out criteria for grading Marshall's work.
Gavin Bryars: I laid out the criteria by which you would do the judging and then indicated the ways in which he was measuring up to that. How he was setting up his own work and how he fulfilled his own criteria. How the vision went beyond the obvious- it was a three or four page report- and he got a First class honours degree. Then he went to Wesleyan.
Had Bryars recommended the programme of study there, or had Stuart sought his advice?
Bryars had spent time in the US working with Cage and was familiar with the other Sonic Arts Union members, Gordon Mumma and Robert Ashley, who he had met in London. Though Marshall may have met Lucier at the same gig as Bryars, Bryars thinks he seeded the idea, emphasising the free flow of people and ideas at the time and his own experience of the benefits of travel. With international artists like Yoko Ono, George Brecht and Robert Filliou, associated with Fluxus, present on the London and UK scene and an array of publications like Source magazine, which featured Marshall, and the Something Else Press widely disseminating ideas from the US and elsewhere.
– – – – – –
Wesleyan University, Connecticut, 1971-2 & 1974, & Newcastle Polytechnic 1976-78.
Alvin Lucier: "I was the only Music Professor at that time who would have taken Stuart and I was very happy to take him".
I am sitting in a room at my home skyping with Alvin Lucier. It is late 2015.
Our discussion centres on Stuart's arrival in Wesleyan in 1971 and the time he spent there, namely the works that contributed to his MA thesis Zones 1971-72.
Lucier recalls the American Embassy gig in 1969, where he and the young Stuart Marshall met, Marshall offering to help out. Alvin had arrived at Wesleyan from Brandeis University shortly before this and his appointment heralded change and increasing diversity in the programme, such as the decision to add New Music Composition to the Ethnomusicology course, which Marshall would shortly come under as the first student on the programme.
Applying students were by default musically trained, however Stuart was not. How common was it for students from a non-music, fine art background to study on a music programme? Lucier states that no other MA Music programme would take a Fine Art major, even one with a Fine Art Degree in sound and sound installation, but he was very happy to offer Marshall a place. And such was Marshall's folio when he arrived, he completed his studies in half the required time.
Writing in Leonardo Music Journal in 2001, several years after Marshall's death, Lucier describes this period of activity:
Alvin Lucier: He stayed at Wesleyan for 1 year, during which he made several beautiful works collected in his Master's thesis… Among them were four room-tone pieces in which square wave oscillators sound one or more resonant frequencies in the room. Loudspeakers were positioned in carefully chosen locations, and in some cases oscilloscope displays were included. Stuart was fond of translating sounds from one medium to another, as well as displacing sound environments to various locations. In Room Tone 2, a closed loop antenna runs around the room at shoulder height, its electromagnetic waves made audible to the listeners by means of personal radio receivers. In Room Tone 4, vibration pickups detect floor sounds in a corridor and play them through loud speakers in an adjacent room. These sounds are then broadcast to portable FM receivers with headphones in the original corridor space. The transmitters are adjusted so that the threshold of hearing coincides with the locations where the walls of the rooms meet the walls of the corridor. In 4D Projection through a 3D Structure, microphones pick up the sounds in one room, then play them on the other side of the wall into an adjacent room following certain lines of projection. Stuart suggested a version for tap dancer whose sounds would be projected at acute angles throughout the building. He once confided in me that he would love to find a way to place caps on the bottom of the performer's shoes so that every time he took a step a small explosion would occur. For practical reasons he never realized this idea[6].
Lucier further describes the works that distinguish Marshall's sound-in-landscape approach derived at Newport and carried over to Wesleyan. One site-specific work titled Usk, after the Monmouthshire town close to Newport, stands out:
Alvin Lucier: …several ice cream vans with bells on them converge to a central point. As a van crosses a performer's threshold of hearing, he or she releases a flare[7].
Alvin reflects fondly on Marshall's humour and geniality, ever willing to help out with tours and performances, even making equipment for Lucier, at which he excelled. After Wesleyan, on return to the UK, Marshall and Harrison organised a Sonic Arts Union tour of England in 1973. Marshall would continue to lug and indeed make equipment for Sonic Arts Union tours well into the 70s[8].
– – – – – –
Nic Collins: …that was probably why as the guy with no music background and a strong visual art thing, it was very natural for Stuart to apply to the Masters degree in Music at a school like Wesleyan and why he got in and why he thrived. And I think when Stuart went to Newcastle in '76 clearly he had transported that ethos to the art school and you know, almost kind of flipped it. Which became the paradigm for how you teach sound art…
I am sitting with Irene Revell in her flat, where we are interviewing Nicolas Collins by Skype in mid 2015.
Nicolas Collins met Stuart Marshall as an undergraduate student at Wesleyan Univeristy, Connecticut in 1974 when Marshall who took the MA in Ethnomusicology and New Music Composition returned as a visiting artist. Already performing with Lucier, Collins proceeded to perform with Marshall in the US and on a 1976 Watson Scholarship to the UK. Speaking of Idiophonics and Sagging and Reading Room, Collins recalls:
"I worked as a hired hand, so to speak, performing several of these performer-ly group pieces, where you didn't happen to have any specific skills you just had to move around and do stuff."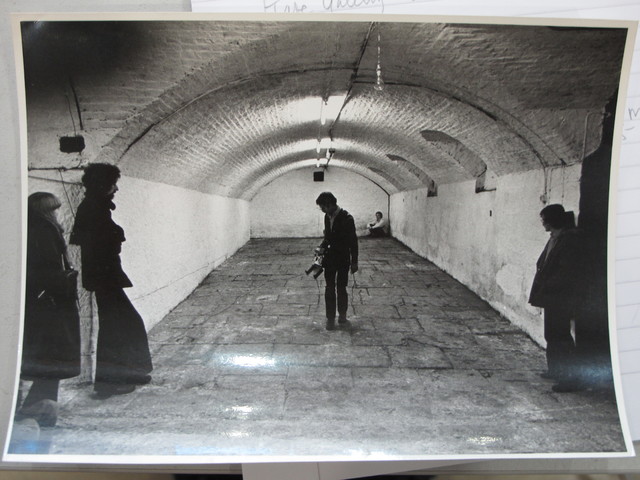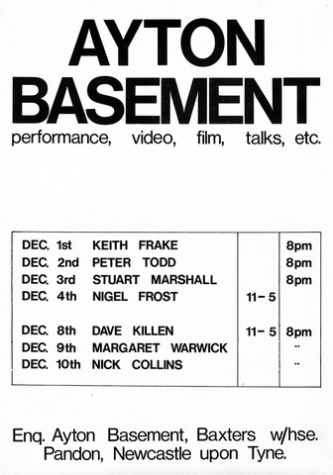 On that visit to the UK, Collins focused his time on the burgeoning scenes surrounding Ayton Basement in Newcastle and 2B Butler's Wharf in London. At Newcastle Polytechnic Marshall was teaching the next generation of video artists: David Critchley, Peter Todd and Maggie Warwick amongst others. Collins lived with Marshall and Harrison in Newcastle and saw at first-hand the programme delivered. The music school ideas taken up by Marshall at Wesleyan were re-applied to art school education. Nic and others argue this integrated use of sound as a fine art medium was the first, necessary step in the teaching of sound art in the UK. Furthermore, he senses that in general this made UK video theory and by consequence art theory conversant in music and sound de rigeur.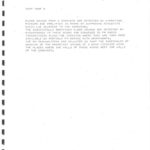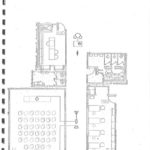 Image Credit: Zones 1971-72, Marshall's MA Ethnomusicology and New Music Composition thesis at Wesley University, Connecticut, US, Image courtesy of Nicolas Collins.
Collins recalls looking at Marshall's original copy (now lost) of the Wesleyan thesis Zones 1971-72, corroborating Lucier's analysis. He helps to identify the Newport era and Wesleyan era works and describes their notation and how this developed.
Nic Collins: In the original it had a lot of transparencies in it, lines on the transparency that were overlaid on topographical maps. You know these things came out of this year that he and Jane Harrison spent living in rural Wales. They were very isolated, they lived out in the country. Clearly it's a collision of his visual art background and his new thinking about sound work and the threshold of hearing. You put an oscillator with a speaker at the top of a hill and then you trace the line in the landscape at the threshold of hearing. But at the same time it produces a visual representation. By the time he leaves Wesleyan, very much in thrall of Lucier, he's shifted to type written scores. They are in that tradition of Vespers or I Am Sitting in a Room. They're completely un-visual.
At the same time looking at these works its clear Marshall was looking beyond Lucier. Closed circuit video was a trope Marshall would apply to video installation and first appears in Marshall's sound installations. This is contemporaneous with similar works by Dan Graham and Vito Acconci, where an audience becomes aware of its image, or sees an image relayed from one place to another. The latter echoing a technique that Marshall often used of translating sound between spaces.
I ask Collins about the ways in which Marshall following Lucier configured an audience. Collins sees these formal devices as symptomatic of notions of ambiguity, chance and improvisation common to works of the 1970s that Marshall would gradually exorcise in the move to artist's video and television. Preferring instead to state a clear intention, at first by appropriating or referencing the work of other video artists in an authorial gesture, later by developing explicit and polemical subject matter and his own distinctive style.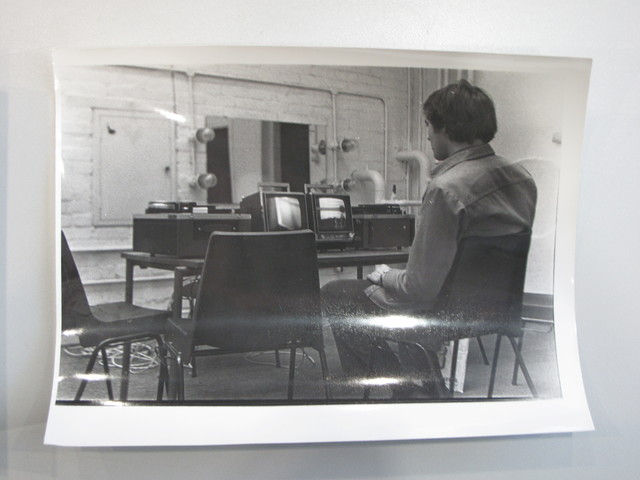 Nic Collins: As much as I love and hold on a very high pedestal his sound based pieces, because I am a sound artist and I see him as coming out of a very similar set of concerns and background issues as I do. I have to admit that his mature work so to speak, is the work he produced as an artist primarily associated with video. And it came into its own at the time he established a broadcast connection.
For Collins therefore Marshall's move to video is not only deliberate and decisive- it signalled Marshall's artistic maturation and he considers Marshall's sound work therefore as student work.
– – – – – –
Trailing, Tracing and Weaving is a series of performances by Stuart Marshall which took place at Ayton Basement, Newcastle in 1977 and continued at The Kitchen, New York and Music/Context Festival on Regent's Canal, London in 1978. This suite of works would turn out to be Marshall's swan song as a sound artist. In a 1978 review in the magazine Musics, David Toop mentions a forthcoming Experimental Music Catalogue anthology on Marshall.
Experimental Music Catalogue was initiated by Christopher Hobbs in 1968, while involved with Cornelius Cardew's Scratch Orchestra. In 1972 Hobbs was joined by Gavin Bryars and by the mid-70s EMC became a committee including Michael Nyman. It was a lynchpin of British and international experimental music. No doubt Marshall's perception in the UK following his return from the US might have changed were he to feature, but the anthology never appeared.
In a 1977 review of the Butler's Wharf performance of Idiophonics for Readings Magazine[9] David Toop indicates other problems for Marshall. The problem of musical categorisation and of different geographical audiences. In the US Marshall was recognised as a sound artist, in the UK certainly by '77-78 he was considered to be a video artist.
No doubt this owes something to the visibility and coherence of the term video art and video artist in the UK by this time. Marshall exhibited in the leading UK video surveys- The Video Show at Serpentine Gallery in 1975 and subsequent shows at Tate, London and Third Eye Centre, Glasgow. That same year saw the founding of London Video Arts, with Marshall as a founding member, and an Arena Video Art special on BBC.
Marshall and Harrison stayed with Bryars for several weeks while London Video Arts was getting off the ground. Tacit agreement perhaps that Marshall's priorities lay with video. To this day Bryars hasn't seen Marshall's early video works, so informed by his work in sound. It remains a tantalising thought that only for this fact, had the sound specificity of Marshall's video been acknowledged, EMC might have featured Marshall's sound scores all the same.
Gavin Bryars confirms that indeed Marshall's text based scores were seen as potential for an anthology but this never materialised. He agrees that Marshall's changing locus of activity from sound to video may have contributed. EMC struggled to keep in sync editorially as composers fell out of sight not long after coming into print. In this, Marshall at the threshold of sound and video, was not unique.
Even so, Marshall's sound works have a claim to being marginal works in sound art repertory. Every so often Sagging and Reading Room or Idiophonics are presented. Do we accept these works as Nicolas Collins might as student works, therefore as staging posts on Marshall's way through sound to artistic maturity and self-realisation as a video artist, or do we take time to re-examine the potential of these works in reconstructing the history of sound art, following David Toop?
Noting the above, I ask Alvin Lucier which of Stuart's works should remain in repertoire. Lucier replies, "them all." Undimmed loyalty, yes, but Lucier's is a pragmatic point. Marshall's scores leave clear instruction and equipment availability not-withstanding, in Lucier's view these works can be and should be re-presented.
Stuart Marshall's sound works deserve to be considered afresh within an authoritative account of the development of sound art in the UK and beyond that in an account of the UK sound and music scene as a locus of international activity. Such attempts will only achieve these ends through the works finding an audience. Lucier speaks with intent when he says, "I'll have a look at these again." Suffice to say for now- watch this space.
But ultimately, as David Toop has suggested, Marshall's reasons for leaving sound were more intrinsic than confounded categories and the shifting ground of sound and performance practice. Stuart Marshall's diversion into video has to be understood in direct relation to his coming out.
In the second post, I will consider the queer space of Marshall's move from sound into video, in light of queer interpretations of sound and music, the political and aesthetic implications of sound and performance practice following Lucier, and finally Marshall's theorisation of sound (and therefore video) as a signifying practice.
Footnotes
[1] Stuart Marshall, "Filling the lack in everyone is quite hard work, really…" A Roundtable discussion with Joy Chamberlain, Issac Julien, Stuart Marshall & Pratibha Parmar from Queer Looks, ed. Martha Gever, Prathiba Parmar & John Greyson, 1993, Routledge.
[2]
Womens Work, ed. Annea Lockwood & Alison Knowles, 1975- After Knowles co-edited Notations with John Cage in 1969, Knowles & Lockwood published Womens Work, an exclusively female representation to address the lack of female composition and performance in Notations.
The collection features by Beth Anderson, Jacki Apple, Sari Dienes, Bici Forbes, Simone Forti, Heidi Von Gunden, Wendy Greenberg, Alison Knowles, Annea Lockwood, Shiomi Mieko, Pauline Oliveros, Elaine Summers, Carole Weber, Julie Winter Marilyn Wood and finally Mary Lucier who knew and performed with Marshall.
[3]
Knowles, Alison, Shoes of Your Choice (March, 1963), A Great Bear Pamphlet, 1965
[4]
Alvin Lucier: DAAD Berlin 1999, Tate 2005, David Toop: Cafe Oto, 2013
[5]
Source: Music of the Avant Garde published 1967-73 from University of California, Davis was a vehicle for international experimental music, sound and performance. Issue 10 was guest edited by Alvin Lucier and featured Stuart Marshall and Anna (Annea) Lockwood.
[6]
Lucier, Alvin, On Stuart Marshall: Composer, Video Artist and Filmmaker, 1949-1993, Leonardo Music Journal, Vol. 11 p 51-52
[9]
Toop, David, Idiophonics Review, Readings #1, February 1977