Much queer cultural production in 1970s Spain, whether in comics, literature, music, or film, developed under the rubric of the "underground," a label that is as problematic as it is in many ways expressive and appropriate.
Its American origins made it unsuitable to Spain's cultural isolation during Franco's dictatorship (1939-1975) and to the prevalence of Spanish cultural motifs in underground works. At the same time, the term's foreign origin aptly revealed the Spanish underground's assimilation of various strands of French and Anglo-American experimental culture—the writing and cinema of Jean Cocteau and Jean Genet, the underground comics, the New York underground cinema, the writing of the Beat Generation, psychedelia, and rock (especially progressive, glam, and punk, all of which had Spanish homegrown versions).[1] In addition, the 'under' in underground describes well the conditions under which Spanish countercultural artists worked through the 1970s: artisanally, collaboratively, and semi-clandestinely; they disseminated their unconventional, anti-authoritarian work through marginal channels, such as mimeographed fanzines and cheaply produced periodicals, cinema clubs, small galleries and exhibition spaces, bars, clubs, and performance venues. These channels usually managed to elude surveillance, but they were selectively targeted by the authorities. Artists, editors, and organizers of cultural events ended up enduring censorship, fines, closings, police beatings and jail terms, even in the aftermath of Franco's death. Still, despite the repressive tenor of the times, the underground enjoyed an astonishing vitality and a considerable following. Pau Malvido, one of the scene's best chroniclers, pointed out in 1976 that "in Spain, or whatever we want to call this peninsula, there is a lot of 'underground' culture. . . . Here, all that is true has been made under the ground, because on the more visible surface there will continue to be a mind-numbing television, a cartoonish political scene, a stark separation between the bosses and those bossed around."[2]
The underground was not an exclusively queer development, whether in Spain or elsewhere, but one of its most visible ingredients was its unconventional sexual politics. Spanish underground magazines like Ajoblanco and Star, devoted to alternative culture and politics, published queer comics, reported on the emerging sexual liberation, reviewed queer experimental film, and their "Contacts" sections reflected a broad sexual range. The two-day anarchist festival ("Jornadas libertarias") in Barcelona in 1977 included a deranged drag show by painter-performer Ocaña, comic book artist Nazario, and some of their friends; and the Canet Rock festival, a Spanish "gathering of the tribes" celebrated yearly between 1975 and 1978, was held in an atmosphere of sexual freedom, with groups of men attending in drag and performers like Pau Riba flirting with gender ambiguity. A short list of queer artists active in these underground scenes, besides Nazario and Ocaña, would include writer Eduardo Haro Ibars, whose book Gay Rock (1975) glossed the glam phenomenon for Spanish audiences and highlighted its confluence with gay and lesbian liberation; punk bands like Kaka de Luxe, and filmmakers Iván Zulueta, Pedro Almodóvar, who started shooting in 8mm and Super-8 in the mid-seventies; and Adolpho Arrietta.
Born in Madrid in 1942, Arrietta (originally spelled Arrieta), painted and made movies from his adolescence. After failing the entrance exam to Spain's only cinema school, he started to make personal narratives with a second-hand 16mm Kodak purchased in a street market. These were purely amateur efforts assisted by friends such as painter Juan Guiralt and actor-collaborator-companion Javier Grandes, whose performing career was solely restricted to Arrietta's productions.[3] Arrietta's first two films, El crimen de la pirindola (1965) and Imitación del ángel (1967), which incorporates footage from two aborted projects, are haunting, elusive stories filmed in black and white; they combine Cocteau's poetic surrealism, Jean Genet's outsider (a)morality, and Arrietta's own fascination with enigmatic angelic figures. According to historians Llorenç Soler and Joaquim Romaguera, these films made its author an isolated pioneer in Madrid[4] at a time when marginal film production was concentrated in Barcelona.
Imitación del ángel closes with one of its protagonists (played by Grandes) taking a train to Paris, something that the actor did in real life after completing the film. He was followed there by Arrietta, who remained in France for the next two decades. Only in the late 1980s would he start producing work in Spain again, when he was commissioned an episode (Kiki) of the series Delirios de amor for Spanish national television (TVE). Arrietta's lengthy exile, which he claims was more aesthetically than politically motivated, was far from unusual. Many other experimental filmmakers and video artists who came of age in the 1960s developed much of their careers outside of Spain, escaping from the repressive military dictatorship and early transition governments, and looking for more favorable artistic and social milieus.
Arrietta evidently found such a milieu in Paris. El crimen de la pirindola was shown at the Cinematheque Française and he was quickly adopted by Marie Meerson, Henri Langlois's main collaborator there, and by Cahiers du cinema critics Jean-Pierre Biesse and Jean-André Fieschi, who remained steady supporters in years to come. Arrietta's following two films benefitted from a growing circle of friends and acquaintances in the Paris film intelligentsia. Le Jouet criminal (1969) featured Cocteau's star and lover Jean Marais, with whom Arrietta became friends; future novelist Florence Delay, who had acted in Robert Bresson's Procès de Jean D'Arc (1962); and Michèle Moretti, one of Marc O's main performers. And Le Chateau du Pointilly (1972), later renamed Pointilly, starred Françoise Lebrun, a performer in Jean Eustace's and Margarite Duras's films, and Dyonis Mascolo, Margarite Duras's former partner and later on an actor in Jean-Luc Godard's films as well as her own.
For his next two titles—my main interest here—Les Intrigues de Sylvia Couski (1974) and Tam-Tam (1976) Arrietta enlisted a different cast: a group of friends without filmmaking experience, except for Howard Vernon, a B-series actor with a leading role in Les Intrigues, and Moretti, who appears fleetingly in both films. Prominent in the cast are Cuban poet Severo Sarduy, who appears in both films, Spanish novelist Enrique Vila-Matas, who starred only in Tam-Tam, and a group of mostly transgender activists that Arrietta and Javier Grandes met through the Front Homosexuel d'Action Revolutionaire (FHAR).[5] Among these are Marie-France, Hélène Hazera, Maud Molyneux, Costa Comnene, Paquita Paquin, and Jacky; they were all active as well in the FHAR splinter group Les Gazolines. Most of them would enjoy long careers as journalists (Hazera and Molyneux), scene-makers (Paquin), and performers (Marie-France). The film catches them at the start of their careers, when they were still unknown outside of the relative circumscribed circles of sexual liberation and far-left activism.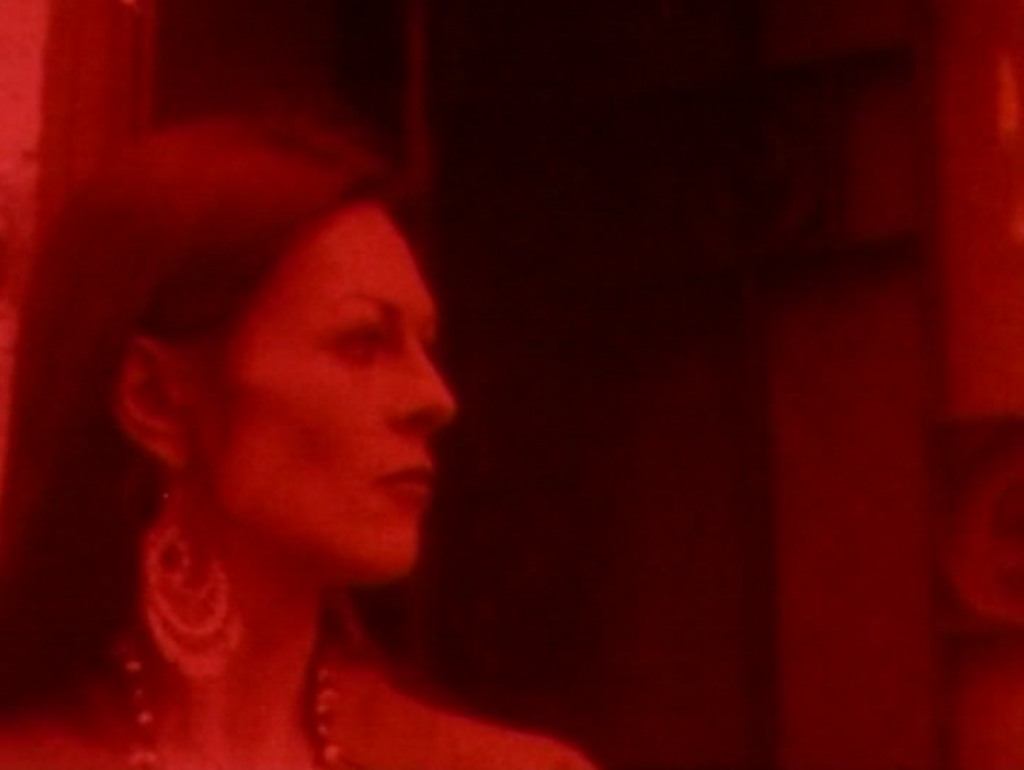 In style and ideology, the FHAR and Les Gazolines contrasted sharply with the discreet activism of the main homophile group in France, Arcadie, active since 1954 under the leadership of André Baudry. Arcadie pursued assimilation and respectability, focused exclusively on sexual discrimination, and steered clear of broader political issues. The FHAR, however, was an off-shoot of post-May '68 left radicalism, tied sexual discrimination to class and racial oppression, and was brash and confrontational.[6] And while Arcadie was a largely male group, the FHAR included women and transgender people, even if lesbians would soon leave to form Gouines Rouges (Red Dykes). The FHAR reached instant notoriety in March 1971, when some of its soon-to-be members violently disrupted a live radio program on homosexuality (titled "Homosexuality, This Painful Problem") in order to denounce its patronizing, maudlin tone. The Front was formally established immediately after this event. One of the FHAR's earliest public statements ("La libre disposition de nôtre corps," April 1971) appeared in the Maoist journal Tout!, directed by Jean-Paul Sartre, where theorist and FHAR co-founder Guy Hocquenghem worked as an editor. The publication was criticized in the National Assembly by a conservative deputy that demanded censorship, was sued by the conservative mayor of Tour, and was eventually sequestered. The same fate awaited two years later the special issue of Felix Guattari's journal Rêcherches titled "Three billion perverts: Great Encyclopedia of Homosexualities," written by FHAR regulars (Hocquenghem, Paul Hahn, or Michel Cressole) with additional contributions by Guattari, Deleuze, Foucault, Sartre, Schérer, and Jean Genet, among others.
During its short life, the FHAR disrupted Maoist and Communist rallies to protest the traditional left's indifference towards sexual liberation, they stormed a July 14 ball to denounce the exclusion of homosexuals, picketed homophobic films and conferences, organized self-defense groups against queer bashers, staged kiss-ins, passed manifestos and fliers protesting discrimination, and forced their presence into the May 1st demonstrations, to the consternation of the some prudish unionists.[7] Rather than integration and acceptance, they sought "total revolution." In the words of one of its founders, Françoise D'Eaubonne: "It is not a question of integrating homosexuals into society but of disintegrating society through homosexuality."[8] Les Gazolines were in a way the FHAR's radical fringe: rabidly anti-authoritarian and keen polemicists, they struggled to prevent the crystallization of hierarchies and vectors of power within the organization. Hazera described their political style as "psychedelic homosexual Dadaism."[9]
None of this confrontational manner appears in Arrietta's films, where it would have seemed out of place, given their contemplative pace, their poetic indefiniteness, and their visual, rather than verbal, articulateness. In them, Gazolines and FHAR activists and fellow travelers appear languid and suave, occasionally modulating into archness and elegant hauteur (Hazera and Comnene's predominant mood in both titles). The films capture instead other aspects of their radicalism: their corporeal and gender fluidity, their refusal to limit the sexual revolution to sexuality alone, and their attempts to redefine relationality and community. These qualities are never verbalized, but subtly impregnate the action in the films. Their minimal plots provide a loose frame for unstructured situations that give performers ample chance to display their charm, wit, beauty, sartorial flair, and creative accessorizing. The action was largely improvised on the basis of minimal directions, as is often the case in Arrietta, who tended to film without a script and preferred to conceive his films as successions of atmospheres rather than clearly worked-out plots.[10]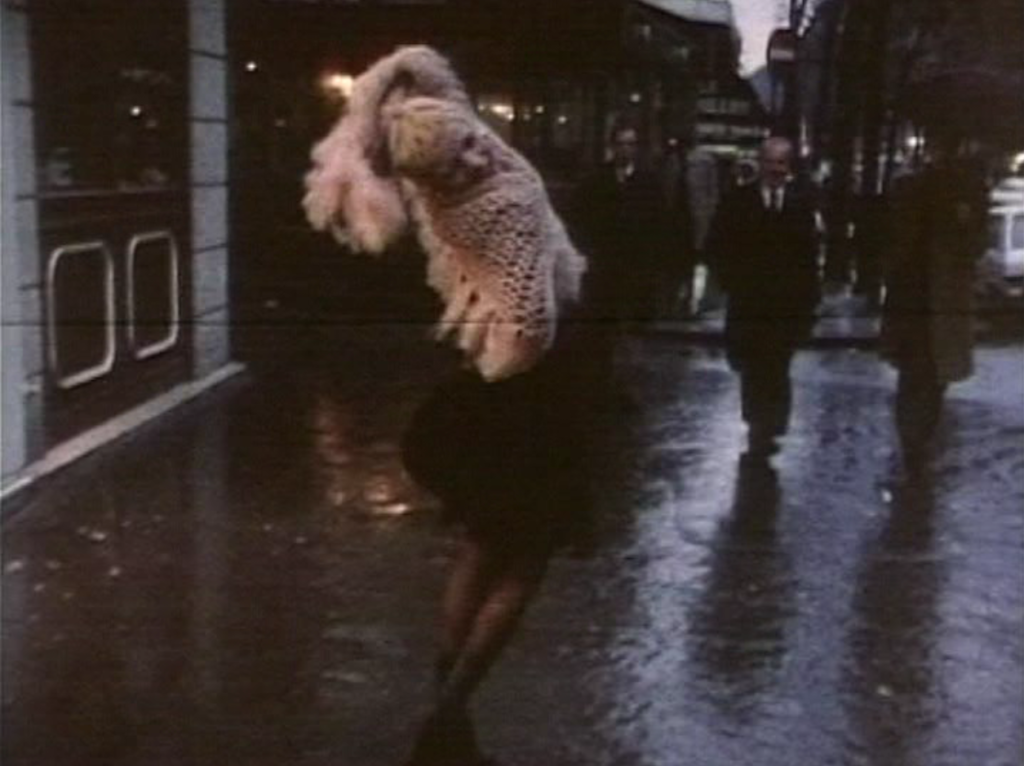 Still, there is a story in Les Intrigues: the revenge of the eponymous Sylvia Couski on her former husband (Howard Vernon), a well-known artist. Sylvia asks a young man (Javier Grandes) to steal a sculpture—a portrait of Carmen (Marie-France)—from her husband's studio only a few days before he is expected to present the piece at an exhibition. When he discovers the theft, he asks Carmen to replace the statue at the opening with her physical presence, which she accepts. She presides over the event as a very unstill objet d'art, playing hostess to an urbane, animated crowd, only to find out by the end of the evening that she has been acquired by a Brazilian collector (played by Sarduy). This plot is interwoven with episodes that depict Carmen and her friends hanging out in cruising areas, sashaying down the street, gathering at cafés, dressing up, and going to parties. There are moments of quiet contemplation, when characters sit alone at a bar in an immigrant neighborhood, walk down a lonely street, watch the view from their window, or water their plants. The film pits the lightness and congeniality of the queer world against the vindictiveness of the Couskis. During the gallery opening, the central scene in the film, the graceful movement and lively socializing of queens and transgender people contrast with the rigid, nearly motionless Couskis, who vent out their differences in an aside filmed in close, static shots.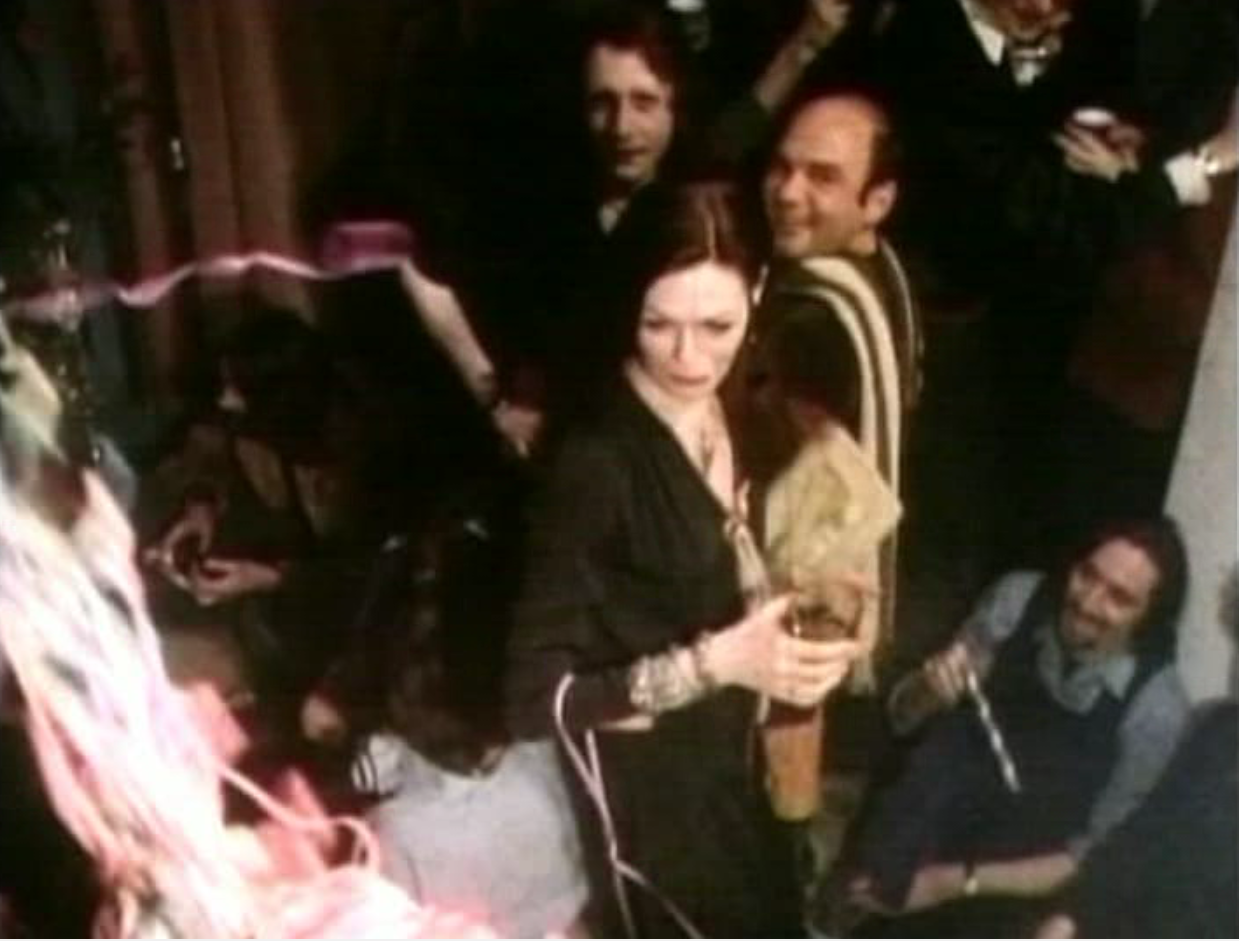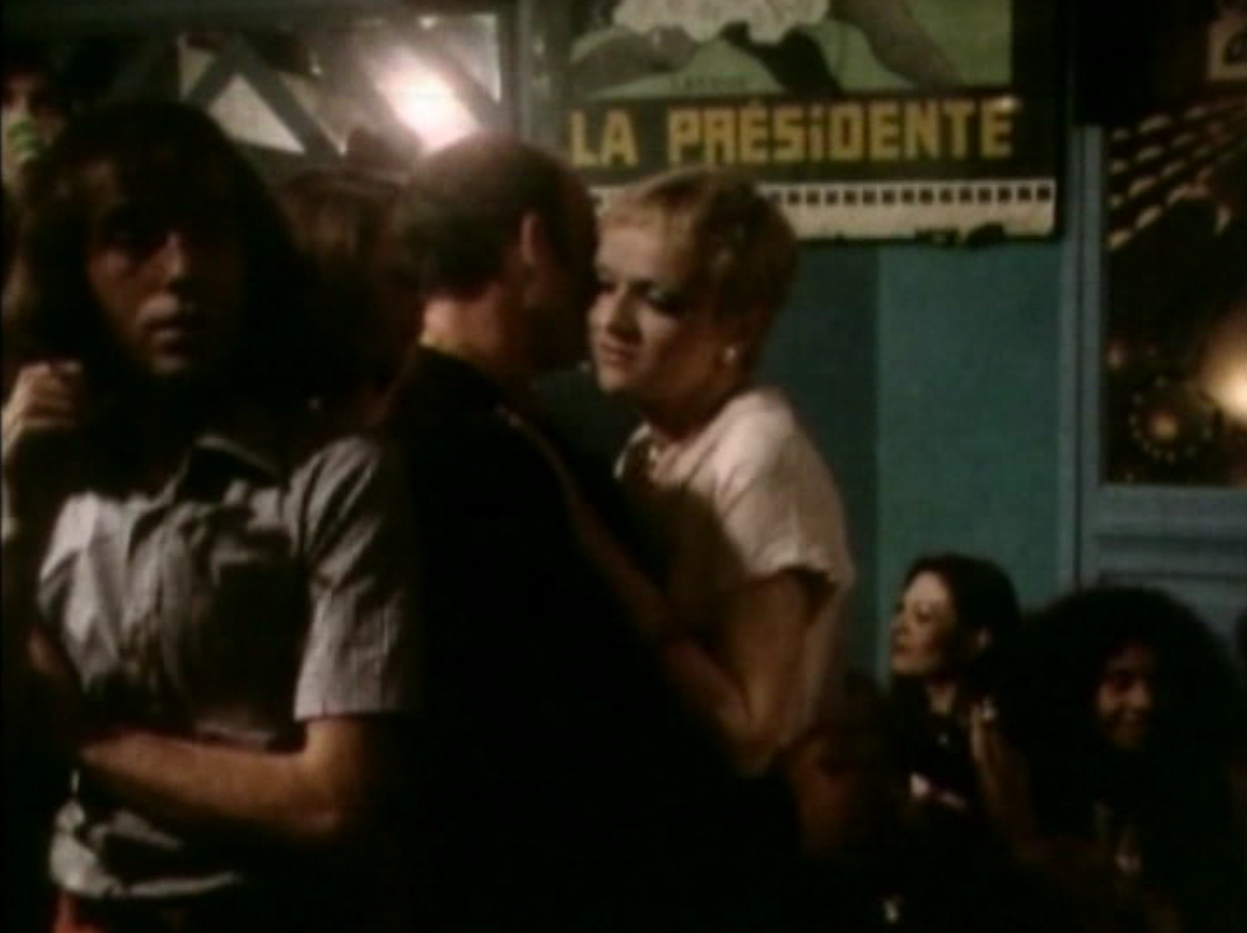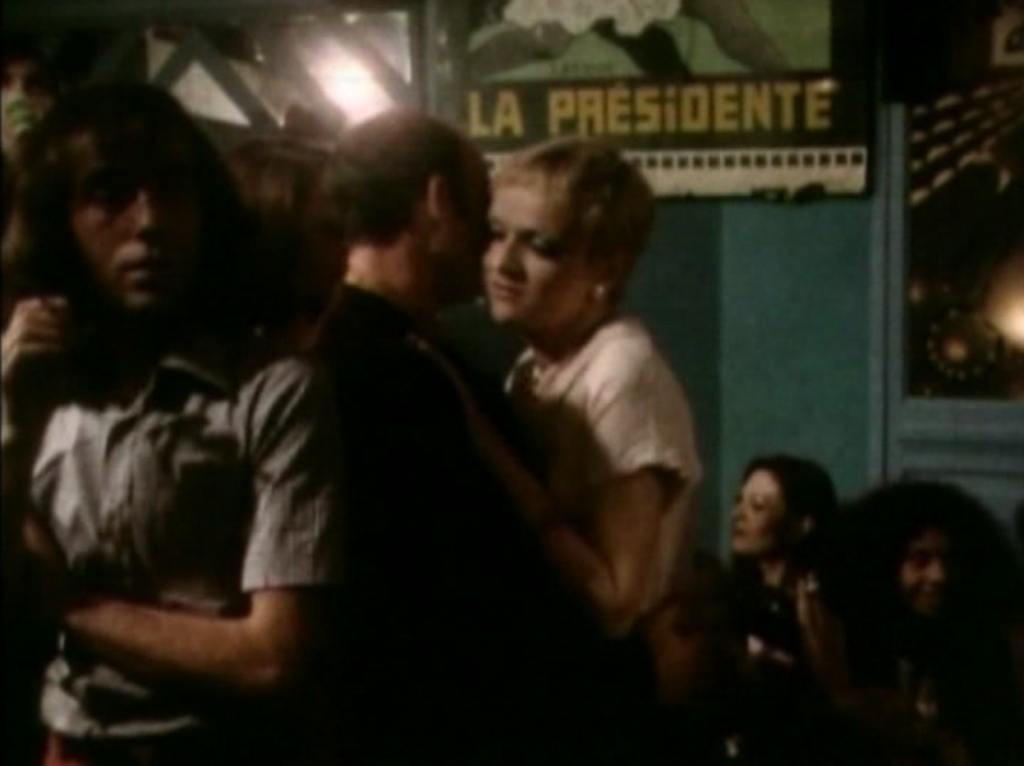 But there are other differences between the two worlds. The Couskis' actions are geared towards calculation and practicality: they tally up their mutual grievances and easily price-tag their impulses and affections. Sylvia Couski puts a price on Javier Grandes's job of stealing her ex-husband statue—she'll give him infallible advice for betting at the horse races—and her husband ends up selling Carmen. Opposite them stands Carmen's unstinting generosity—she agrees to be the art object at the opening without asking for reward—and the drag queens' charismatic glamour, a sort of expenditure without return. The closing images in the film belong to them: Jacky walks ethereally through Paris in the early morning in a long white robe, magic wand in hand, and Hélène Hazera pensively strolls back and forth on a bridge at sunset—a moment that, according to Arrietta, summarizes the film.[11] The self-absorbed beauty and gentleness of the queer crowd remains untainted by the greed and pettiness of the Couskis. Through the opposition of these two worlds, the film seems to suggest that the anti-normal rebellion that queerness embodies is not limited to the body, appearance, or sexuality, but spreads to other aspects of life—to leisure, to the parsing of time, to a disregard for calculation or profit. As Hocquenghem put it, sexual revolutionaries were not "specialized in the sexual problem"; anti-normative sex and gender contained a much broader refusal that rippled through other areas of experience.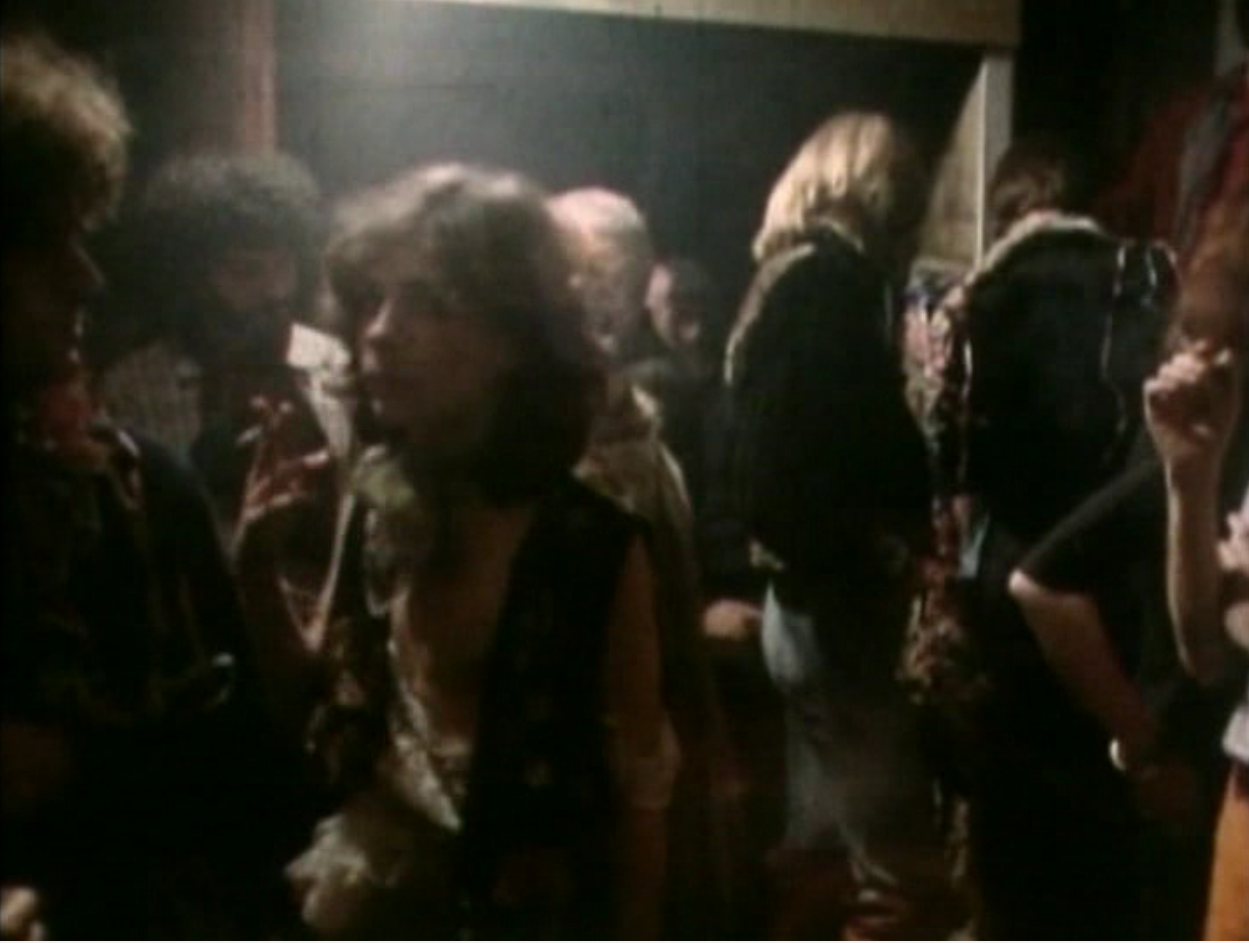 Tam-Tam is both tighter and dreamier than Les Intrigues. The action is more compact and confined—a party in honor of a writer who never arrives—and the conversions and interactions between characters are often absurd. Lines of dialogue and visual motifs (a terrestrial globe, an owl's mask) recur without apparent motivation, and give the whole a dream-like self-containment. Everyone seems about to leave or to have just returned from a holiday in Andalusia, and conversations constantly veer to an impending (unspecified) cataclysm and to a love filter made by the gypsies in Southern Spain. The most frequent of these repetitions is the eponymous tam-tam; it is the title of the fêted writer's latest novel and a sound bite that returns like an obsessive refrain. The sound of the tam-tam rhymes with the exotically-themed conversations and with hints of savagery under the urbane partygoers' façade. The party occasionally breaks up in violence, as when the hostess and a guest slap each other over a sentimental rivalry; guests trade cutting comments; and props and costumes—Mercedes Robirossa's leopard print top and feline demeanor—recall a wildness that is quick to erupt. If in Les Intrigues, queens, trans people, and sexual outsiders stand amiably together in counterpoint to the predatory Couskis, in Tam-Tam they are on their own, without external counterpart, but the good vibes are streaked with tension. Yet despite the strife, the group stays together in disunion. Their tiffs and squabbles seem to feed, rather than dissolve, a floating eroticism in the guests' stares and in the manner in which they approach and address each other.
This is a queer version of what Jean-Luc Nancy has called "the inoperative community": the one based on difference, on the convergence of irreducible singularities, rather than on a similarity hypostatized as ground for unity. Difference in the midst of collectivity brings into play, for Nancy, "the political," which is not conventional "politics"—the management of "forces and needs"—but the dimension of being together.[12] And this dimension is inseparable from a conflicted exchange in which both individual subjects and the community as a whole confront their outside in the form of an otherness that prevents it from closing in upon itself without fissures. This otherness is, as Nancy puts it, "a limit at which politics stop and begin."[13] Politics rises from the need to manage difference in togetherness, but also stops with the awareness that difference is, after all, irreducible: it cannot be negotiated or theorized away; it is not an excess to be purged in favor of (an impossible) homogeneity, but a constitutive feature of community, at once its catalyst and its outer border. "In a certain sense, community acknowledges and inscribes—this is its peculiar gesture—the impossibility of community."[14]
Politics seems to have stopped and begun on the limit posed by difference at the FHAR. In Hocquenghem's words, the FHAR was "nobody's and nobody . . . but homosexuality on the march." Power trips, rivalries, and dissension were endemic to the group, yet also kept it going—at least for a while: "Among us, a network of power relations is constantly woven and unwoven, no sooner made than unmade." Later on, the French sexual liberation movement—represented by the CUARH and other groups—would lean towards practical political effects, rather than towards provocatively poetic actions, and would also become more streamlined, but in its beginnings, its style of togetherness was streaked with difference and ineradicable diversity. Hocquenghem again: "Jealousies, pick-ups, make-up—that's the FHAR." It is also an apt description of Tam-Tam and, to a certain extent, Les Intrigues.[15]
But Tam-Tam and Les Intrigues are not only cinematic translations of the contemporary Parisian sexpolitique.[16] They also continue Arrietta's personal exploration of desire and community, or rather, of the way desire makes and unmakes community. Until the mid-1970s, his films had typically featured characters whose impulses burst apart conventional groupings—the family and the couple—and created other grammars of togetherness. In El crimen de la pirindola and Imitación del ángel, sexual rivalry and Oedipal antagonism drive their respective adolescent protagonists to murder an older brother and the parents. In Imitación, the plot to commit murder brings together a small community of outlaws that are also tied by their (subliminally depicted) desire for each other and for the mother of one of them. In one of the scenes, the oldest of the criminal youths lovingly embraces the mother, soon to be shot, who by means of a jump cut transmutes into the son who has commissioned the murder. In Le Jouet criminel, the characters played by Jean Marais and Michèle Moretti combine their relationship as a couple with their attachments to other characters—some are young men on the prowl encountered in a cruisy park—without breaking up their union. In Pointilly a woman escapes from an asphyxiating relationship with her father through her new attachment to the figure of angelic Javier Grandes; the father is not murdered this time, only relocated within a broader affective network.
The representation of these affective networks and of the desires that made and unmade them were not intended as activist statements—nothing further from Arrietta's aestheticism. At the same time, their affinity to radical conceptions of togetherness and community, and the smoothness with which many of the FHAR and Gazoline militants entered Arrietta's imaginary worlds, blurs the lines conventionally drawn between politics and aesthetics, activism and the underground. Clearly, they are not the same thing, but, at least in an early moment in the history of sexual liberation, they shared ideas and aesthetics. Underground modes and styles provided 1970s activism with gestural and iconic repertoires, and activist ideas and attitudes, in turn, found their way into underground expression. Neither conventionally political nor entirely disengaged, Arrietta's mid 1970s films force us to redraw our maps for understanding the period, but also for reflecting on our cultural and political work today.
---
Juan A. Suárez (University of Murcia, Spain) is the author of Bike Boys, Drag Queens, and Superstars (Indiana, 1996), Pop Modernism (U of Illinois Press, 2007), Jim Jarmusch (U of Illinois, 2007), and, more recently, of essays in Grey Room, Criticism, Screen, and in several edited collections, including The Modernist World, eds. S. Ross and A. Lindgren (Routledge 2015) and The Music and Sound of Experimental Film, eds. H. Rogers and J. Barham (Oxford 2017). He is one of the IPs of the European Collaborative HERA Project "Cruising the 1970s: Unearthing Pre-HIV/AIDS Queer Sexual Cultures."
This essay has been commissioned in partnership with Cruising the Seventies: Unearthing Pre-HIV/AIDS Queer Sexual Cultures (CRUSEV), in the context of CRUISING GROUND.
---
Footnotes
[1] Among the critics who were occasionally skeptical about the use of the term are Eugenio Bonet, "Cine decadente: Un Nuevo expresionismo," Star 13 (1975), y "Adolpho Arrietta: El underground reencontrado en París," Star 23 (1977); Enrique Vila-Matas, "La superficialidad de Arrietta," Papel especial, no. 0 (1978), reprinted in booklet for DVD pack Adolpho Arietta, Obras 1966-2008 (intermedio, 2014); and Llorenç Soler and Joaquim Romaguera, Historia crítica y documentada del cine independiente en España. 1955-1975 (Barcelona, Laertes, 2006), 127-136. Recent critics and historians, however, have reactivated the term as a useful way to designate countercultural production. See Alberto Berzosa, Homoherejías Fílmicas: El cine homosexual subversivo en España en los años setenta y ochenta (Madrid: Brumaria, 2014), pp. 67-70, 86-92; Pablo Dopico, El cómic underground español (Madrid: Cátedra, 2005).
[2] Paul Malvido, "La borrachera moderna," Nosotros los malditos (Barcelona, Anagrama, 2006), pp. 60-61; originally published in Star 28 (1976): 19-22.
[3] Biographical information about Arrietta is scattered in interviews: Two excellent ones are Alberte Pagán, "Sobre los ángeles. Entrevista a Adolpho Arrietta": http://albertepagan.eu/a-toupeira/adolfo-arrieta/, last accessed October 22, 2017; Marcos Uzal et Philippe Fauvel, "Entre les vagues, entretien avec Adolpho Arrietta," Vertigo, no. 39 (2011): 90-101.
[4] Soler and Romaguera, Historia crítica y documentada de cine independiente en España, 186.
[5] Philippe Fauvel and Marcos Uzal, "Un ange passe, entretien avec Javier Grandes," Vertigo, no. 39 (2011): 102-103
[6] On the origins and ideology of the FHAR, see Michel Sibalis, "Gay Liberation Comes to France: The Front Homosexuel d'Action Révolutionnaire (FHAR)," en I. Coller, H. Davies, J. Kalman, eds. French History and Civilization: Papers from George Rudé Seminar, vol 1 (Sidney: George Rudé Society, 2005), pp. 265-76, available on line: http://h-france.net/rude/vol1/; François Travelet, "Próletaires de tous les pays, caressez-vous!" Gulliver, no. 1 (1972), Available at http://semgai.free.fr/doc_et_pdf/Gulliver_nov72.pdf; Frédéric Martel, Le rose et le noir: Les homosexuels en France depuis 1968, 2d ed., (Paris, 2000).
[7] For the FHAR's early activities see FHAR, "C'est n'est qu'un début," FHAR, Rapport contre la normalité (Paris, Champ Libre, 1971), pp. 2-3.
[8] Reported by Martel, Le rose et le noir, p. 37.
[9] Hélene Hazera, "Gazolines," in Didier Erebon, ed. Dictionnaire des cultures gays et lesbiennes, (Paris: Larousse, 2003), 213.
[10] See Marcos Uzal, "Flamme, Flamme. Entretien avect Laurent Laclos," Vertigo, no. 39 (2011): 110-13.
[11] Alberte Pagán, "Sobre los ángeles: Entrevista a Adolpho Arrietta": http://albertepagan.eu/a-toupeira/adolfo-arrieta/.
[12] Jean-Luc Nancy, The Inoperative Community, trans. P. Connor et al. (Minneapolis: University of Minnesota Press, 1991), p. 80.
[13] Ibid., p. 81.
[14] Ibid., p. 15.
[15] All quotations in this paragraph come from Guy [Hocqhenghem], "Pour une conception homosexual du monde," June 3, 1971, FHAR, Rapport contre la normalité, 14. My translation.
[16] I'm borrowing the term from Berzosa, Homoherejías fílmicas, 75-77.